Whisky and sugar combine to make an unforgettable cocktail.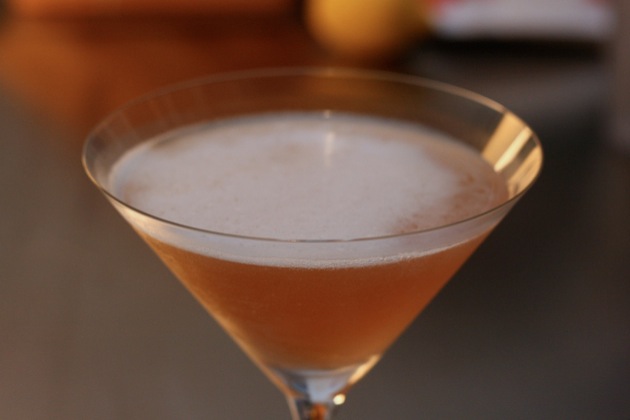 Recently Nick and I were in the gritty West Loop neighborhood of Chicago, after a long, pork-ridden meal at The Publican , where we fed on cracklins, rillettes, belly, shoulder, and all manner of sausages. We slipped out of the restaurant happy and stuffed into the long fluorescent shadows, in search of a good bar to aid all the oncoming digesting to be done.
We ended up at Matchbox , a slender little bar no more than 10 feet wide, but well over ten times as long. A shelf along the windowsill to the right of the entrance is just wide enough to hold a drink; the bar is on the left, and stools line up in a long row tucked under. Taking a trip to the bathroom is a real feat. Hilariously, the "Maximum Ocupation" sign near the ceiling reads "29."
Immediately, we noticed a good selection of whiskey, usually the drink of choice for both Nick and myself. Some of Kentucky's best bourbons were on display. But it was a warm night, and bourbon on the rocks just wasn't what we were after.
But when I spotted a bottle of Sazerac rye whiskey, it was a cocktail called the Tombstone that popped into my head. "Do you have a cocktail shaker?" I asked, not knowing what kind of joint it was. "Of course." "Bitters?" "Yep."
Enter the Tombstone cocktail.
As simple and delicious as cocktails get, it is just rye whiskey, bitters, sugar, and ice. The bare minimum of ingredients needed to call something a cocktail (the recipe is very close to the Old Fashioned or plain whiskey cocktail, probably the first cocktail ever invented, except it's shaken rather than stirred**). Together, these ingredients become something cold, sharp, aromatic, and delicious.
In fact, it's the perfect solution to conquer a whiskey craving on a hot night. Forget whiskey and soda, which seems to me just a watering down of perfectly good stuff, and don't ask me about coke or ginger ale.  The whiskey is the most important flavor, and the tombstone puts the taste of spicy rye front and center, opening up the flavors with a little bitters, softening the edges with sugar, and icing it down into a cloudy, refreshing elixir.
I might even call it my favorite cocktail, due to my love of simplicity. There's nothing extraneous here, and there shouldn't be.
Matchbox Bar seems like our kind of place -- intimate, gritty, smart bartenders, and a random mix of people. We're looking forward to heading back and trying their house infused liquors, like ginger vodka, which marinate behind the bar in epic Mason jars.
But we may just go back to order a tombstone.
**Tough even cocktail historians don't agree on the shaken vs. stirred question.  A drink that's stirred is clean and sharp; shaking a cocktail "bruises the spirits" and gives it that cloudy appearance. The man who "invented" this cocktail is none other than Dave Wondrich, author of the superb book Imbibe! , who admitted its similarity to the plain-jane Whiskey cocktail but defended it by telling the story of how it got its name: when a bunch of cocktail dorks got together and mixed up a batch while visiting the grave of Jerry Thomas, aka "The Professor" of cocktails, in the Bronx. The tombstone also uses demerera sugar rather than the white stuff, which gives it a little more depth. Call it a whiskey cocktail if you please; either way it's delicious.
Dave Wondrich's Tombstone Cocktail
Adapted from Imbibe! by Dave Wondrich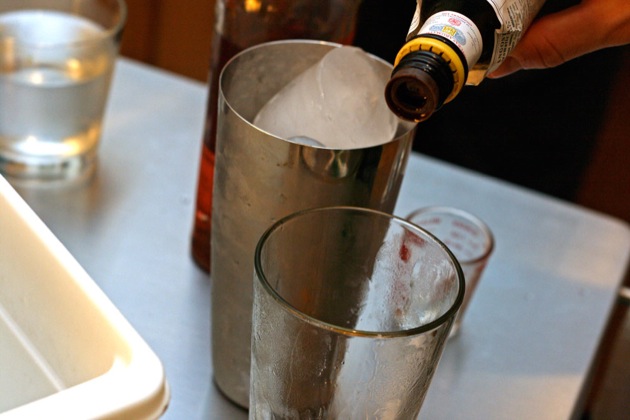 2 ounces rye whiskey, or spicy bourbon such as Bulleit*
1 teaspoon demerera simple syrup (combine 2 parts sugar in the raw to 1 part water)
2 dashes Angostura bitters
Lemon peel for garnish (optional)
*Fresh out of rye whiskey, we used Bulleit bourbon, which is spicy as bourbons go. We were also lemon-less.
Combine the whiskey, syrup, and bitters in a shaker with cracked ice. Shake well for 8-10 seconds, and strain into a chilled cocktail glass. Garnish with lemon peel if using.
Drinks,
Alcohol,
Alcohol,
ale,
Angostura bitters,
Bourbon,
Bronx,
Chicago,
Cocktail,
Cocktails,
Dave Wondrich,
Distillation,
Food and drink,
Human Interest,
Kentucky,
Old Fashioned,
Person Career,
Rye whiskey,
Sazerac,
Sour,
US Federal Reserve,
Whiskey,
Whiskey