How to make pickles at home without filling your place with the smell of pickles.
But all I did was worry.  Why was there no garlic in the dill pickles? Every other jar of dill pickles I had bought contained garlic.  And why did the pickling spice smell so sweet?  Dill pickles weren't sweet.  I worried that Ruhlman's recipe was too refined.  I wanted simple dill pickles.  I'd have to look elsewhere.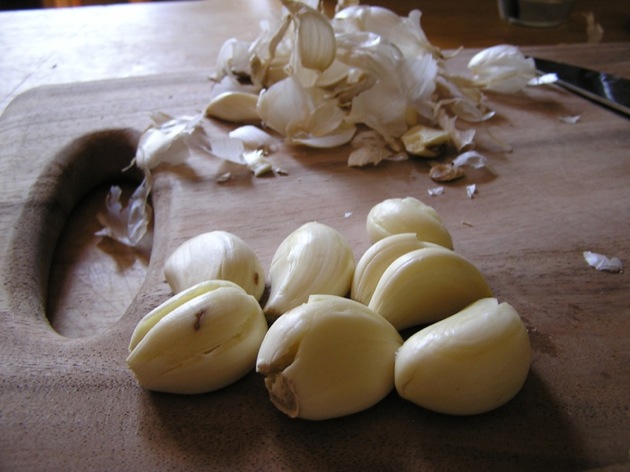 I pulled out Arthur Schwartz's Jewish Home Cooking and found Dill Pickles that looked much closer to what I wanted.  Indeed, there was the garlic.  But the biggest difference was instead of stuffing the jars in the back of the fridge and trying to forget about them, he said to loosely cover them and let them sit in a cool room for three days.  Three days!  That's more like it.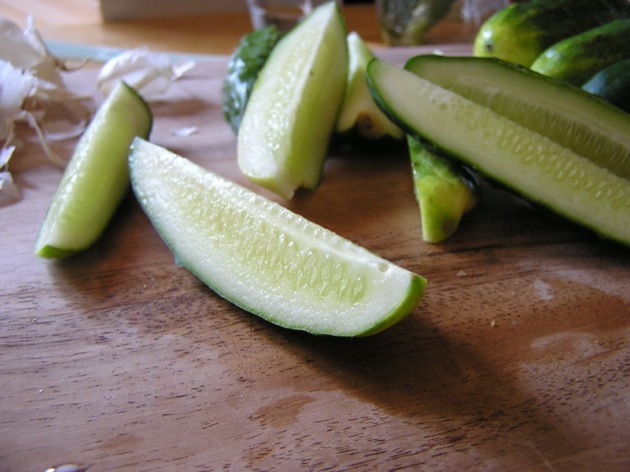 I bought more cucumbers.  He also wrote that if I cut the pickles into forths the pickles could be ready in a  day.  Well, all right.  I had one jar with whole pickles and one with the quartered cucumbers and placed the loosely covered jars in my cool spare bedroom and let them be.  Cool is a relative word here, especially since Chicago was mired in 90 degree heat that week.  To bring the temperature down, I placed a fan by the pickles and made sure no sun hit them.  Hopefully that would work.
I woke the next day to an apartment bathed in pickle smell. This is all especially bad considering: A) Abby hates pickles and pickle smell AND B) Blake was arriving later that day to sleep in the spare bedroom.  I was being mean.  So I screwed up the jars and set them in the fridge. The refrigerator method may take longer, but it keeps the apartment from smelling like a pickling warehouse.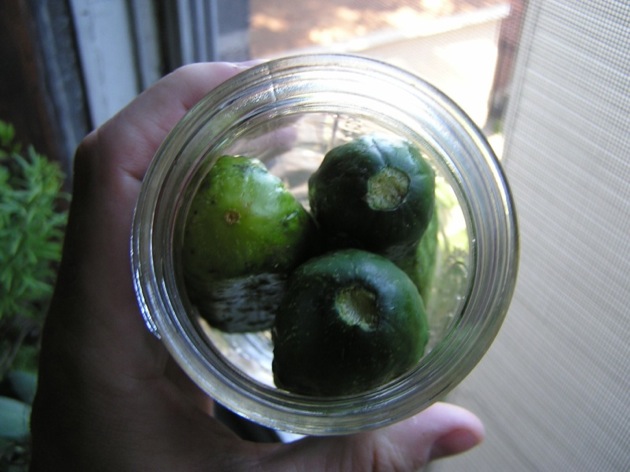 Again, I waited.  Three weeks went by.  I had basically given up on them. Unlike cured meats , I didn't have much giddy expectation.  These pickles were an enormous pain, and I was really only going to get six pickles.  I just couldn't foresee doing this that often.  The quartered pickles I had made were good, but didn't have the wonderful fizzy characteristic that makes pickles so wonderful.
So I was astonished that the first thing that I noticed from the Ruhlman pickles was the fizzy nature of the pickle liquid.  And when I pried a pickle out and ate it, it was perfectly crisp and acidic.  A much more flavored pickle for sure, because of the pickling space, but a dill pickle nonetheless.  Though I doubted it many times, the Ruhlman recipe worked.
Next time I'm going to get a bigger jar to make more of them.  Ruhlman says they keep well in the fridge for quite a while.  I just had to drain the liquid into a pot, bring it to a boil, let it cool, and then pour it back in the jar.  Then it would last for ages.
Though I hated on the refrigerator method, it's actually the most practical way of making pickles at home.  And while it takes much longer, the results are flawless.
Pickling Spice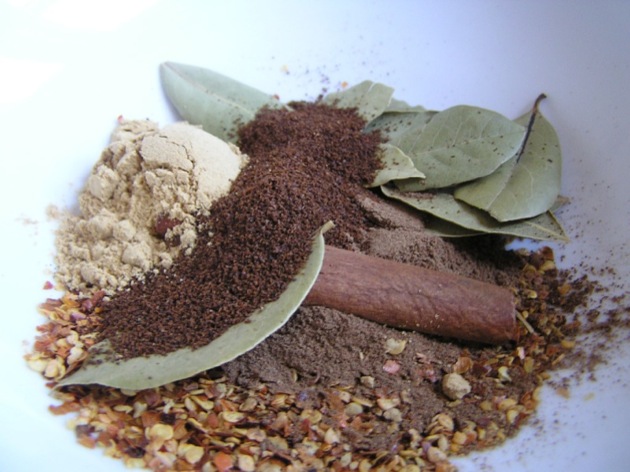 1 tablespoon black peppercorns
1 tablespoon mustard seeds
1 tablespoon coriander seeds
1 tablespoon red pepper flakes
1 tablespoon allspice berries
1/2 tablespoon ground mace
1 small cinnamon stick, broken into pieces
1 tablespoon whole clove
1/2 tablespoon ground ginger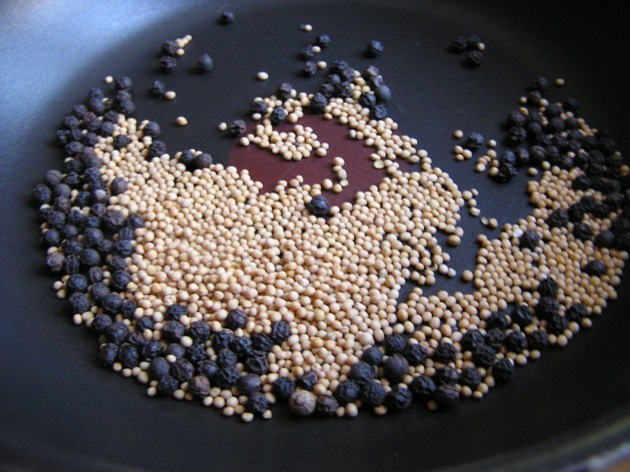 1. Toast the peppercorns, mustard seeds, and coriander seeds in a small skillet over medium heat.  About a minute or two.  Crack the seeds with a knife.
2.  Combine everything in a bowl and mix well.
Dill Pickles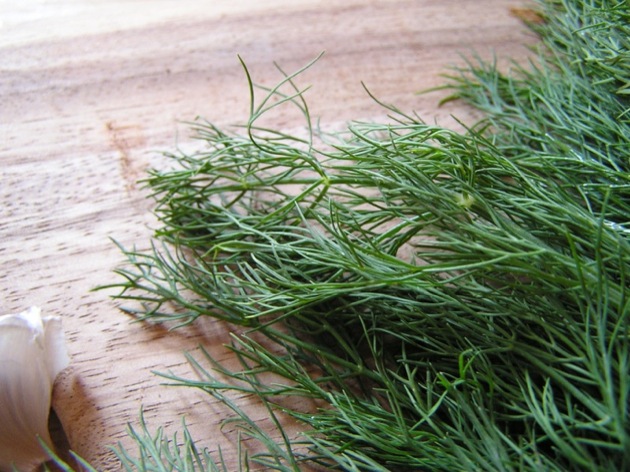 2 1/2 tablespoons kosher salt
1/2 teaspoon dill seeds
1/4 cup white wine vinegar
1/2 teaspoon black peppercorns
1/2 tablespoon pickling spice
2 1/2 cups water
1 bunch dill
5 pickling cucumbers, washed
Combine the salt, dill seeds, white wine vinegar, black peppercorns, pickling spice, and water in a large pot.  Bring to a boil and cook for 3 minutes.  Turn off the heat and let the brine cool to room temperature.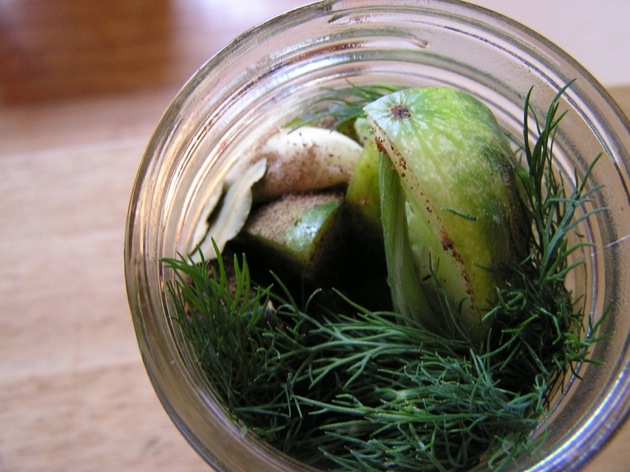 Clean and wash some Ball jars.  Stuff them with as many pickles as can fit (about 2 to 3).  In any open space stuff in some dill.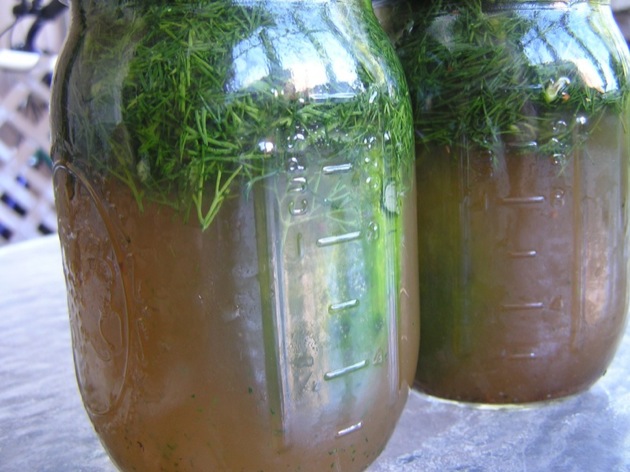 Pour the brine into the jars, secur them tightly and let them sit in the fridge for three weeks.
Food,
Canning-Preserving,
American,
American cuisine,
Appetizers,
Arthur Schwartz,
Brine,
Condiment,
Cucumber,
Cucumber,
Cucumbers,
Dill,
Dill Pickles,
Food and drink,
Lithuanian cuisine,
Michael Ruhlman,
Mustard,
Pickled cucumber,
Pickled pepper,
Pickles,
Pickles,
Pickling,
Pickling,
Polish cuisine,
Vegetables