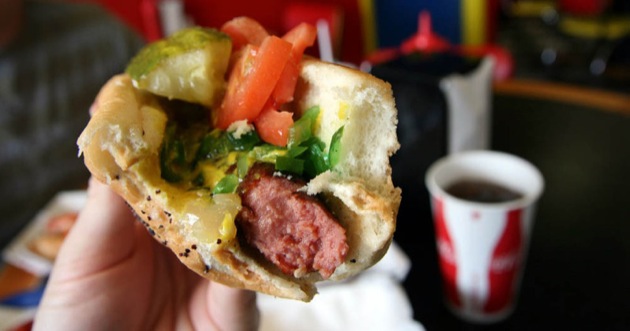 When I spent a week with Nick in Chicago, we had grand plans for every single meal - especially the ones we cooked in his kitchen.  Nick's already covered the fatty, home-ground burger and our foray into making red enchilada sauce , our two major kitchen experiments.  But I also know that Chicago is a great eating town.  I grew up in the area, but my knowledge of Chicago food is shameful.  Unfortunately, I didn't slip out of my suburban kid suit nearly enough in high school; I went away to college, then drove out to New York where my tongue was awakened.  So I humbly came to my own hometown and let Nick boss me around.
Nick's only lived in Chicago for less than two months, but he's quickly developed a firm understanding of three important food groups in the city: Mexican, Hot Dogs, and Barbecue. Nick wrote a post a few months ago (when he was visiting the city, but not yet living there) about Maiz, an affordable but ambitious-to-be-upscale Mexican place, and I visited it within a day of arriving.  It was everything he'd promised: full of light, delicate combinations with the spicy robustness that Mexican flavors promise.  There were no muddy refried beans or stale red rice in sight.
His local Mexican grocery store, Danny's Fresh Market, has a take-away counter and some booths tacked onto the side of it where they have large trays of pork, steak, and chicken that have probably marinated for hours and cooked slowly for longer.  For $2.99, we could hardly pass up the opportunity for a torta al pastor every time we walked by. Served on crumbly white bread that was smeared with refried beans then topped with meat, the tortas were crunchy from the lettuce and tomato and spicy from the salsa.  I was ecstatic over this revelation just blocks from where Nick lives.
If there's one Chicago food that I can claim longstanding affection for, it's the Chicago Dog.  I may not have explored every obscure neighborhood in Chicago when I grew up in the suburbs, but I understood the Chicago Dog.  I understood that it was a beautiful combination of unlikely ingredients that were not to be deconstructed.  Logically, it shouldn't work: there are more condiments than actual hot dog.  It's futile to try and explain; you just have to eat one.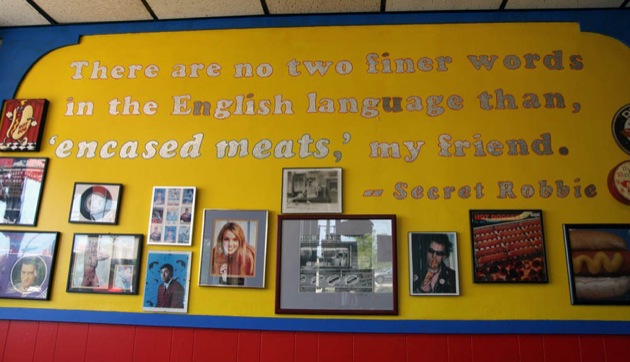 I'd read about Hot Doug's in Nick's last post , Chicago Eats [Part I], which promises all manner of bun-and-sausage combinations--from the classic Vienna Beef Chicago dog to fancified "encased meats" with game and truffles.  I knew it was at the top of our list.  Normally the line stretches down the block, but we savvily visited the place for breakfast, at 10:45am on a weekday morning.
We both started with the classic Chicago Dog, then I ordered a Bratwurst and Nick opted for an Italian sausage.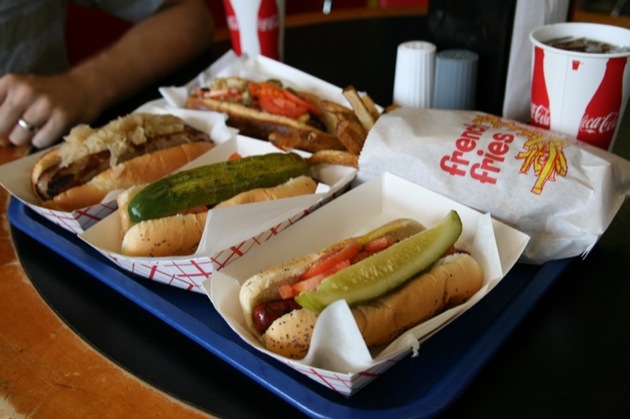 The Chicago Dog was excellent, complete with its bright green relish and all the necessary toppings, down to the celery salt.
But it was the other dogs that really got us.  In particular, Nick's Italian sausage was an unbelievably tender and juicy revelation.  It was topped with mustard and Giardiniera , a pickled mix of peppers, carrots, cauliflower, and celery, which balanced the meaty sausage.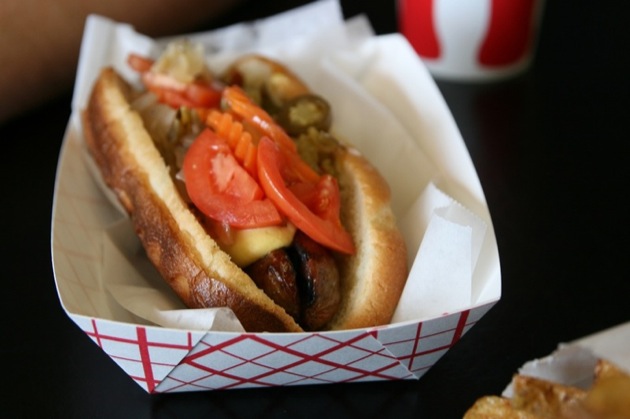 It's unclear how they achieve the melting texture of the sausage that they do, but it is the opposite of toughness. It was the same for my bratwurst, which was appropriately topped with mustard and sauerkraut, plus a little caramelized onions.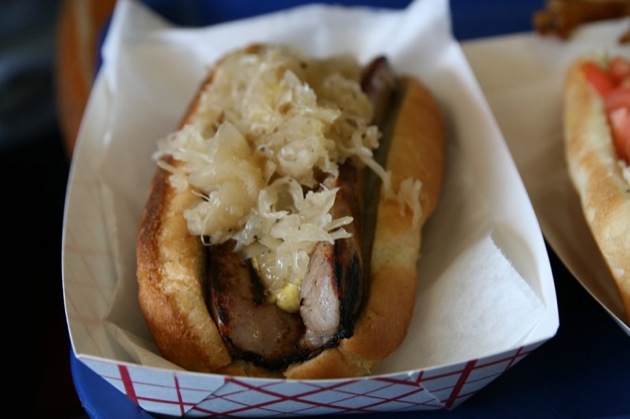 The fries were pleasantly crispy and overdone, which is how I like them.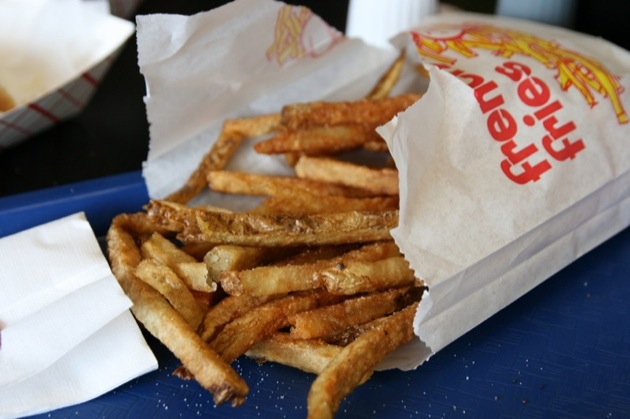 After Mexican and Encased Meats, the final food category Nick promised me was barbecue.  For some time he's been raving about a place near his apartment called Honey 1 BBQ , but alas, they were on vacation for the entire duration of my visit.  So we headed outside the neighborhood to a little place called Smoque.  On their website they had a lengthy manifesto about their approach to barbecue, and they clearly take it very seriously.  So we felt confident that we'd be in good hands.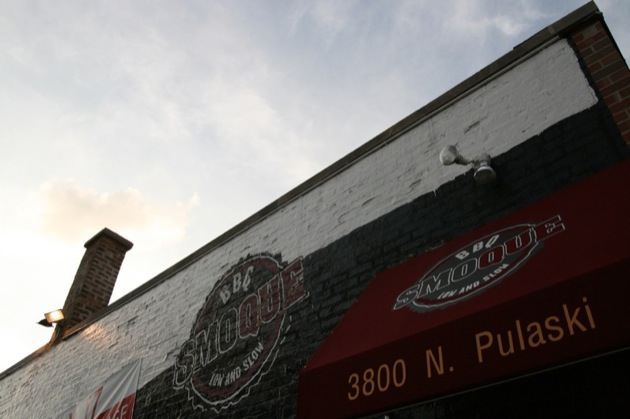 There was a short line out the door when we arrived, but the people ahead of us had already popped open their first of their beers (Smoque is BYOB).  We joined them by opening ours, risking arrest, but quickly the line shuffled inside where we got a look at the menu.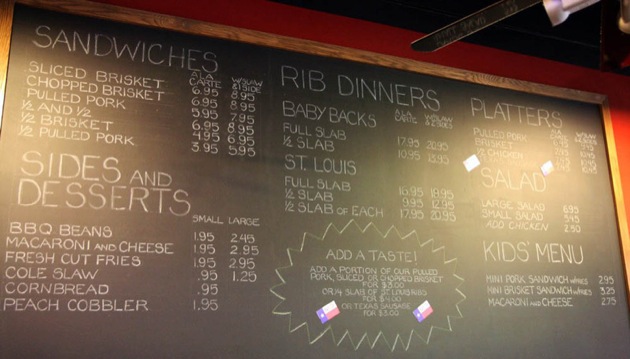 At Smoque you don't have the option of sitting down to be served by a waiter; their goal is to sell as much barbecue as possible to a constant stream of people.  We decided on a platter of pulled pork, a 1/2 slab of St. Louis style ribs, plus a side portion of brisket.  We filled in the corners with coleslaw, cornbread, baked beans, macaroni and cheese, and a peach cobbler.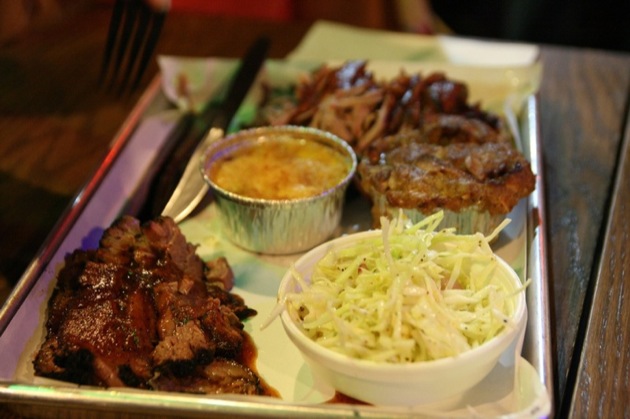 In the manifesto, Smoque talks about the importance of "tug" when it comes to ribs; they should be meltingly tender, of course, but they also shouldn't totally fall off the bone.  They should provide a little resistance.  Eating these St. Louis ribs--almost spicy from the hours of smoke they'd been cooked in--this all made sense.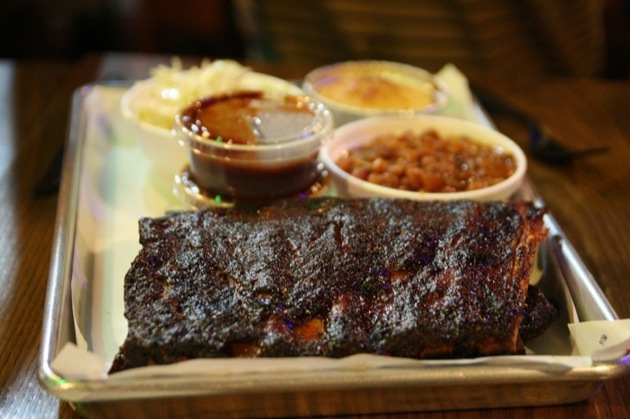 I don't know a great deal about barbecue, but these were the best ribs I'd ever eaten.  As was the brisket, which was the most absurdly tender meat I'd ever put in my mouth.  The pulled pork was the least impressive of the three, but it was still very good.
Believe it or not, the sides almost upstaged the meat.  The beans were sweet and smokey, the coleslaw crisp and not too mayonnaissey, the cornbread moist, the macaroni and cheese satisfyingly browned and still creamy.  Even after all the food, we fought over the last bites of our peach cobbler.
For a city not in the South, Chicago has some pretty good barbecue.
I'd like to take this opportunity to say that I'm very jealous of Nick right now.
Barbecue,
Chicago,
Chicago,
Fries,
Giardiniera,
Hot Dogs,
Hot Dougs,
Maize,
Mexican,
Restaurants,
Smoque