A better way to make ravioli.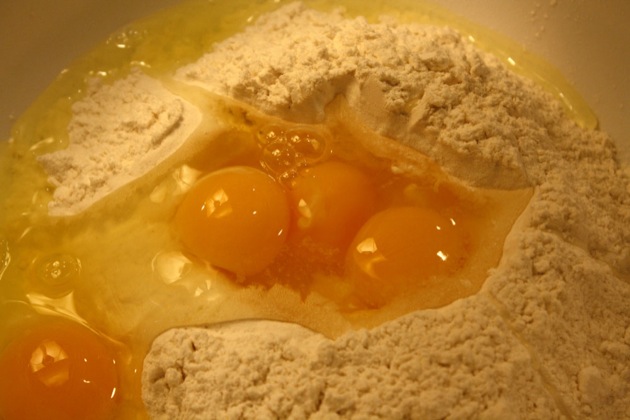 What kind of flour should I use? I had quite quickly settled on 100% Semolina flour when I first made tagliatelle, because I loved the bite that it gave my fresh pasta.  When I made the first batch of ravioli, I just started there, figuring it would work for all fresh pasta recipes.  But as I read more and more, I noticed that most of the recipes specifically called for all-purpose flour.  Perhaps the flour would produce a softer, more luscious ravioli.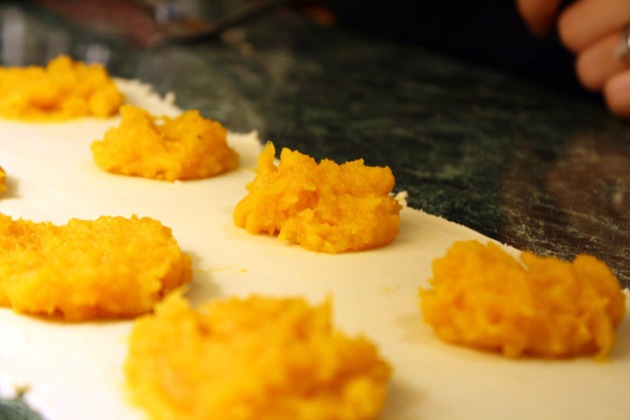 How much filling should I use? I had used about a tablespoon of the spinach ricotta mixture for my last batch.  But they became too unwieldy.  I decided to follow the advice of a few recipes and a wonderful commenter, and only use a teaspoon of filling for each one.
I also switched the filling.  Though I'm sure a great ravioli can be made with the spinach and ricotta filling, it's been a part of every single ravioli failure.  I realized the jinx, and switched to a butternut squash filling.   I found a great recipe at Digs Magazine .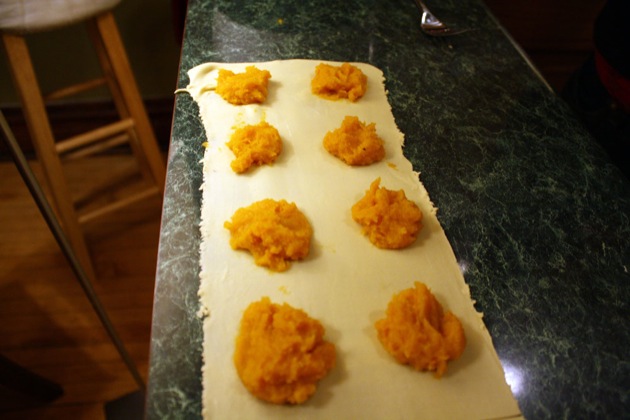 How many raviolis can I get from a sheet of pasta? It sounds like a minor problem, but nearly every ravioli recipe just said to haphazardly position the filling on a sheet of pasta and cover with another.  Cut out your raviolis and you are done.  But last time I realized without some order the sheets wouldn't overlap properly, some filling would squeeze out, and lots of pasta dough would be wasted.  I needed some measurements.  Thankfully, Digs Magazine had both a recipe, and very detailed instructions.  If you use a pasta machine, the width of the sheet should be a standard 5 inches or so.  On a 12 inch sheet you can fit 8 1-teaspoon fillings.  Done.
I really can't express how wonderful this recipe was.  It made my other versions look ridicuous.  They were tender and the filling was sweet and luscious.  Oddly, the all-purpose flour is also dramatically easier to use then Semolina flour.  I whipped up the dough much quicker than I had ever before.
Butternut Squash Ravioli with Butter Sage Sauce
Serves 8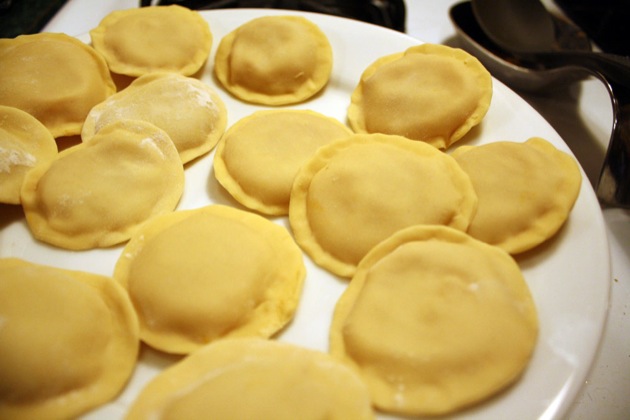 Butternut Squash Filling
2 butternut squashes, cut in half lengthwise
1/4 tsp. nutmeg
6 dashes cinnamon
pinch of brown sugar
salt
olive oil
Pasta Dough
4 eggs
3½ cups flour
1 tsp salt
1 tablespoon olive oil
2 tablespoons water
Butter Sage Sauce
3 tablespoons butter
8 sage leaves, thinly sliced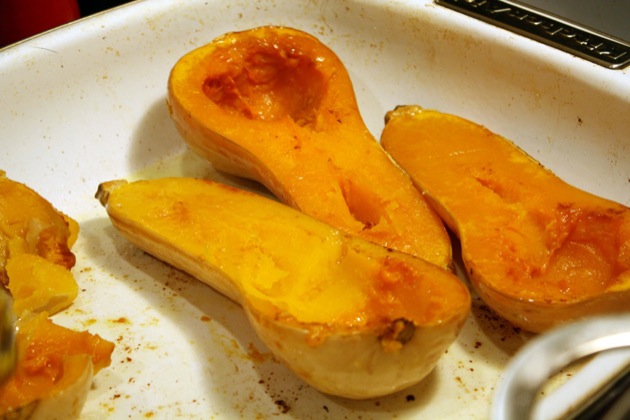 Preheat the oven to 375 degrees.  Sprinkle the cut butter squashes with olive oil.  Set in a roasting pan and place in the oven.  Cook for 45 minutes or so, flipping halfway through.  If they are still hard after 45 minutes give them some more time.  You want them to be very tender.
Scoop out the flesh of the butternut squashes.  Put the flesh in a bowl and then add the nutmeg, cinnamon, brown sugar, and salt.  Mix well and add more brown sugar if necessary.  Let it cool down before using.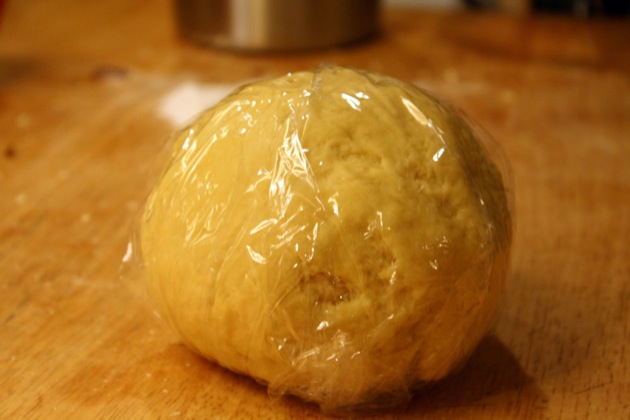 While the squashes are roasting make the pasta dough.  For detailed instructions check out my first post on fresh pasta dough .  Let the ball rest for 30 minutes
Cut the ball into fourths and remove one of the pieces.  Rewrap the other pieces so they don't dry out.
Roll the ball out using a pasta maker until it has gone through the thinnest setting.  Again, for more detailed instructions check out the fresh pasta post.  The sheet of pasta should be about 5 inches wide and a little over two feet.  Measure out and cut one 12 inch by 5 inch sheet.  Keep the other half for the top layer.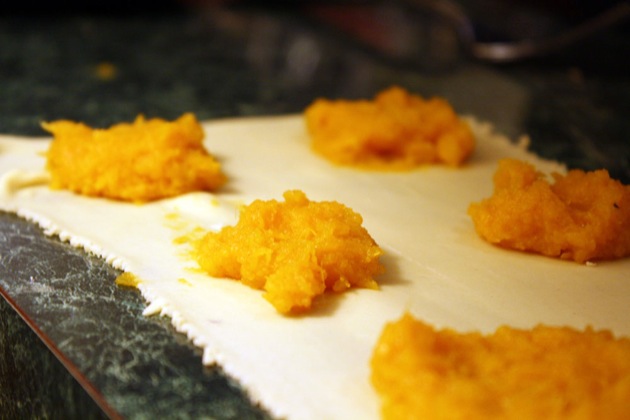 On the 12 inch by 5 inch sheet, place a teaspoon of the filling at least 1/2 inch from the edge and 1 inch from each other.
Cover with the other sheet.  It should be slightly longer, so there should be overlap.  Carefully form the filling, removing any big air pockets.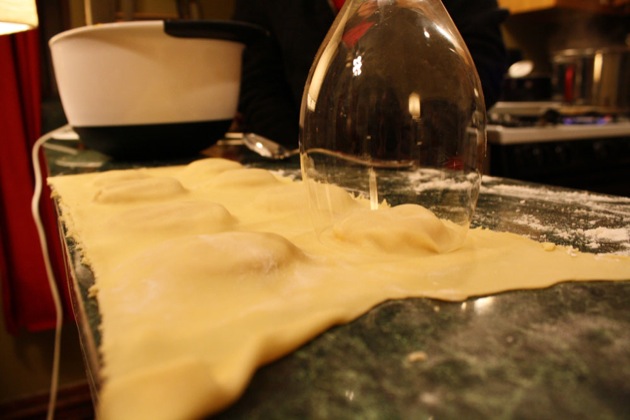 Using a wine glass, or any other glass with a dimension of 2 1/2 inches, cut out the raviolis.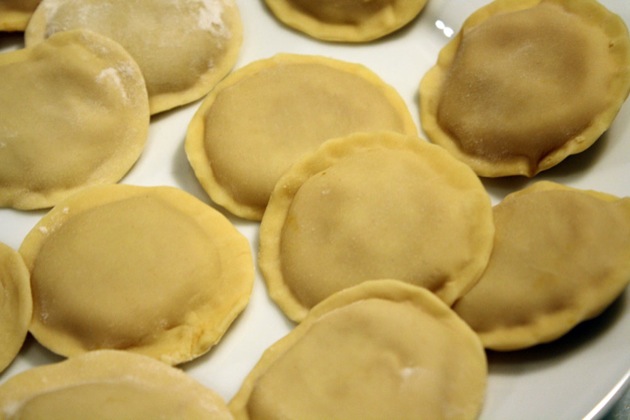 Use your fingers to delicately seal the edges.  You don't want too much of an edge, so be careful.
Repeat this process with the other 3 portions of pasta dough.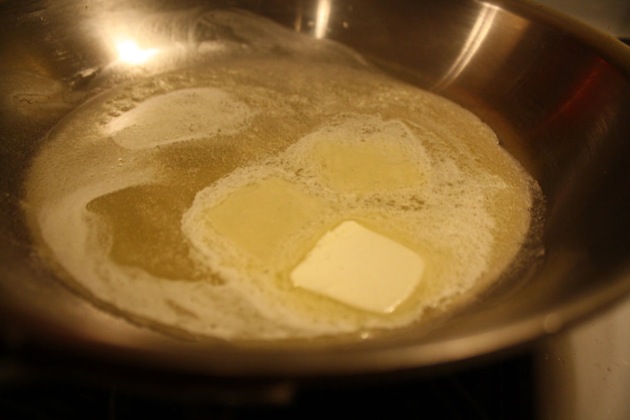 Melt the butter in a large skillet over medium heat.  When melted, add the sage.  Cook for a few minutes until sage is slightly crispy.  Be sure not to burn the sage.  If it is done cooking, then turn the heat to low.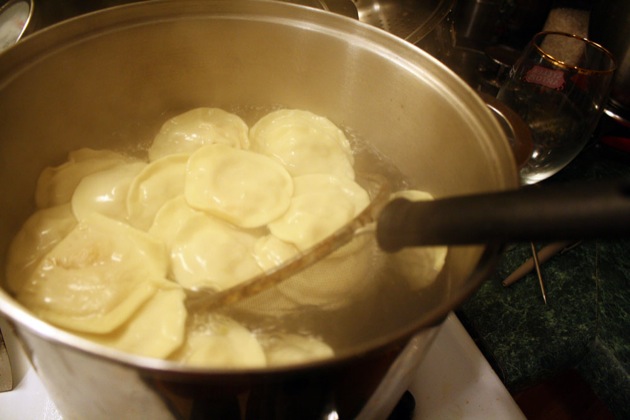 Cook the ravioli for 3 to 4 minutes.  Check one at 3 minutes to see if you like the texture.  If it's ready take them all out.  If it's not quite done give them an extra minute.  I wouldn't go much further than that.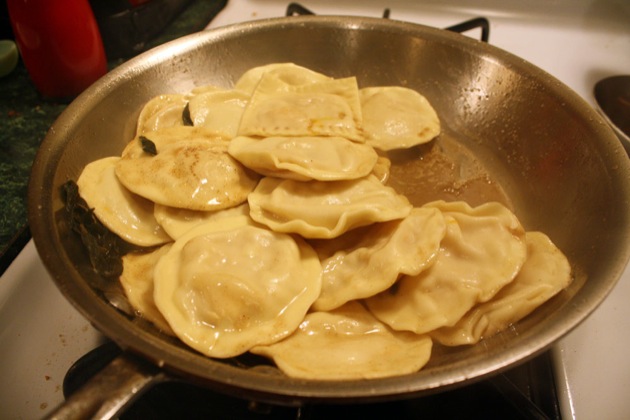 Move them directly to the skillet with the butter sage sauce.  Turn the heat to medium-high, and toss the ravioli with the sauce until coated.  Add some pasta water if the skillet looks too dry.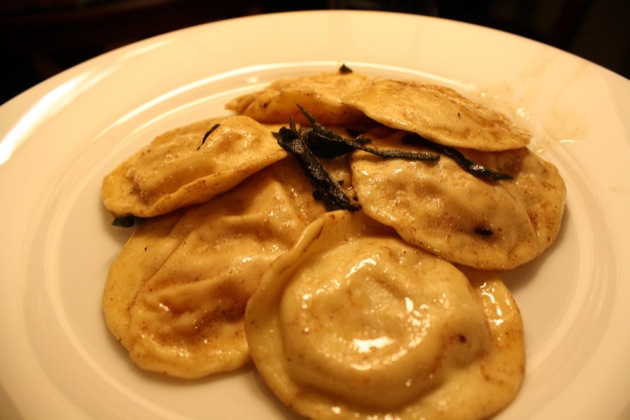 Remove, season with salt and pepper and a little Parmesan.  Serve.
Food,
Vegetarian,
Agnolotti,
Butter,
Butternut Squash,
Butternut squash,
Dumplings,
Food and drink,
Fresh Pasta,
Italian,
Italian language,
Measurement,
Noodles,
oil,
Pasta,
Pasta,
Pasta,
Pasta Maker,
Ravioli,
Ravioli,
Ricotta,
Sage,
Teaspoon