Pizza, Hot Dogs, and Sliders: Detroit's best in one afternoon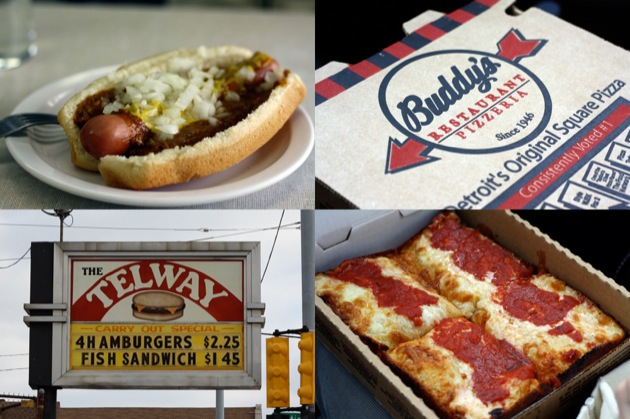 Just a sampling.
Whether it's research for Serious Eats, city guides for Grub Street Chicago, or "work" for this site, if you happen to call me on a Saturday you'll probably find me in the midst of some misguided eating tour. I call it research, and yet I realize that it starts to drive one slightly mad. It's to the point now where I can't imagine being close to any major metropolitan area without at least trying to sample as much food as I possibly can, whether or not I'm even slightly hungry. So even though my relatives lived a good hour outside of Detroit, I convinced my wife that it was absolutely practical for us to leave the family the day after Thanksgiving and go gorge ourselves silly. You know, who cares that it was just after the biggest eating day of the year? I had one less spoonful of mashed potatoes to prepare myself.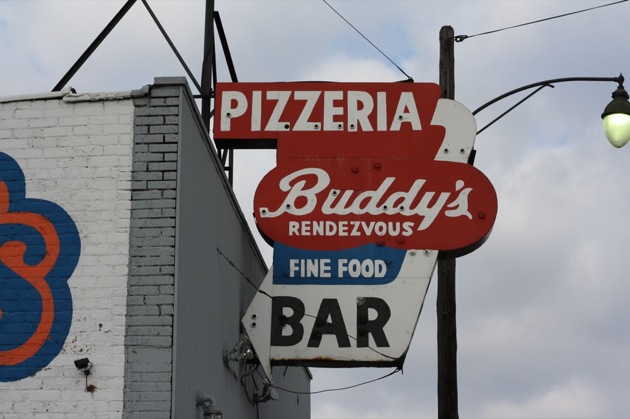 Old School
First stop was for Detroit-style pizza at Buddy's . Now, a few years ago I didn't even know that the Motor City had its own style of pizza, let alone one that could be included in the 25 best pizzas in the country . But I knew I was ready for it. For years I was a strict New York pizza Evangelist, damning everything else as simply evil. But I've lightened my tone as of late, which is what happens to someone when they live in Chicago for long enough. I can handle a thick crust.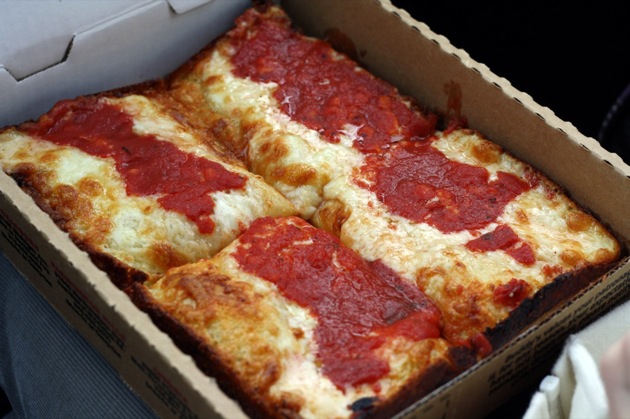 Kind of like deep dish, kind of not.
Buddy's exudes the kind of old Italian-American charm that cannot be replicated without years of history, and actually reminded me the most of Maria's in Milwaukee . The pizza itself is a mix of a traditional Sicilian bakery slice with the caramelized crust of Pequod's pan pizza. The cheese is generously loaded, with only a few splotches of the deliciously sweet sauce ladled on top. It's greasy good fun, the kind that I can appreciate from time to time.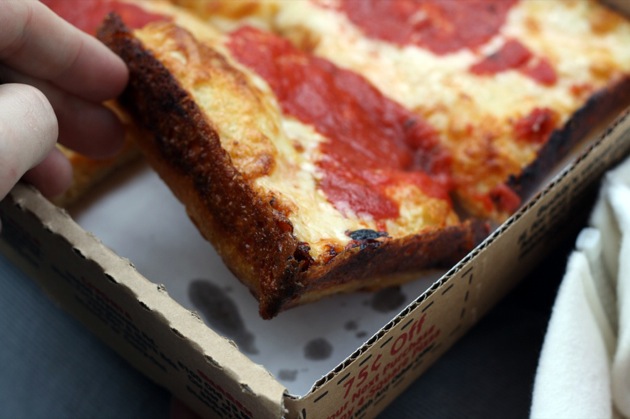 Yum.
The crisp and caramelized crust, on the other hand, is good no matter what mood you're in.
Next were hot dogs. Now, I'm a Chicago-style hot dog man, though I'm trying to be more open about these things. But I've never really understood the coney dog. Aren't hot dogs fatty enough? Why do you need to go ladle chili sauce all over it? I finally got the allure a few weeks ago, when I visited Chicago's first outlet of Leo's Coney Island here in the city, and marveled at the Koegel Vienna dog , which was a mix of beef and pork, and the surprisingly effective Coney sauce. Still, Michael Nagrant— Detroit native and food journalist extraordinaire—let me know that Leo's was fine, but basically a chain. The real Coney dogs were downtown.

American is next door.
On the corner of Lafayette and Michigan Avenues sits both Lafayette and American, two competing Coney dog purveyors. Had I been Food Wars , or Food Feuds or one of those shows, I'd have visited both one time and then rashly predicted a winner. I didn't have the time so I just went to Lafayette Coney Island . Inside, it's the kind of hot dog shop every great city wished it had.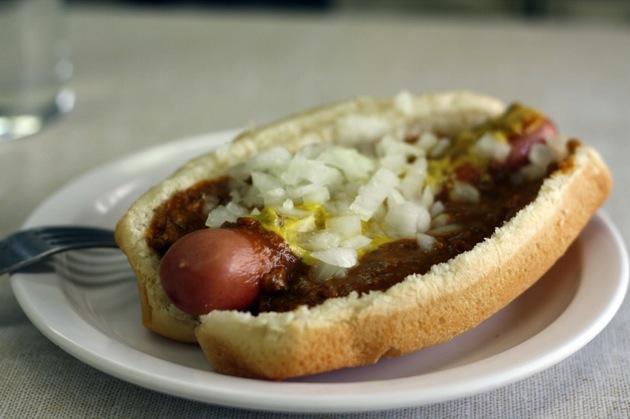 It's all about that mustard.
That is, it's old school, straightforward, and insanely fast. I think it took all of a minute to get this to my table. The very flavorful dog is the same as the one I enjoyed at Leo's, but the coney sauce was more distinctive. But I suppose what I love most about these is the heavy smear of mustard, which helps cut through the fat. I get it.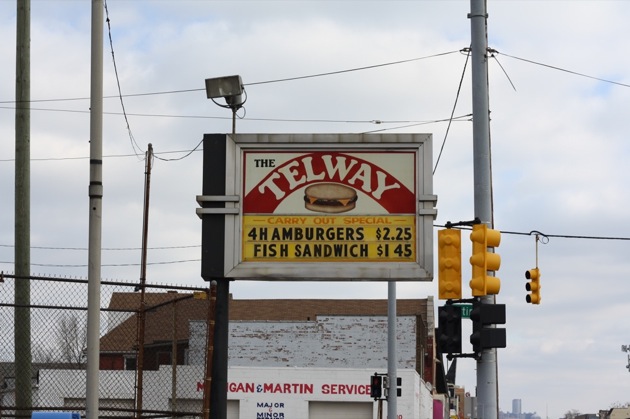 That's a deal.
The last stop in the city limits was something of an audible. While there were all kinds of recommendations in the city, a friend of Nagrant's recommended Telway for its sliders. Chicago has a lousy slider scene, so I skipped some of the other recommended options and made my way up Michigan Avenue until I came across this amazing spot.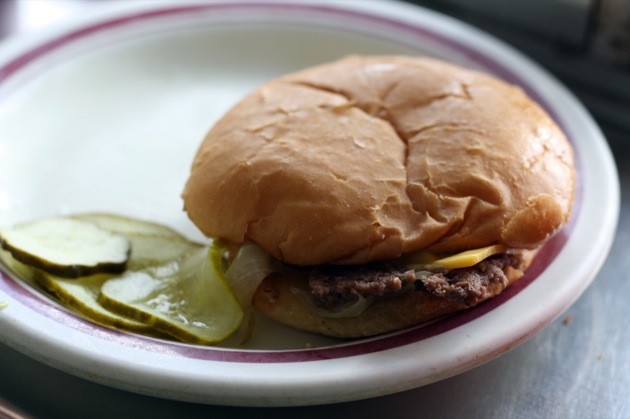 Looks like McDonald's, but way better.
The burgers are small and griddled over a bunch of onion on a stove top about the size of a elementary student's desk. Served on a squishy bun with cheese and pickles, I was in my own version of burger heaven. I can't believe Chicago doesn't have a place like this. Best part? They cost less than a buck a piece.
Yes, I will be back Detroit, and hopefully I'll have longer than two hours to eat my way through it.
Buddy's Pizza
17125 Conant St,
Hamtramck, MI, 48212
(313) 892-9001
Lafayette Coney Island
118 W Lafayette Blvd
Detroit, MI 48226
(313) 964-8198
The Telway
6820 Michigan Avenue
Detroit, MI 48210
(313) 843-2146
Travel