A mad dash for LA's best food in one afternoon.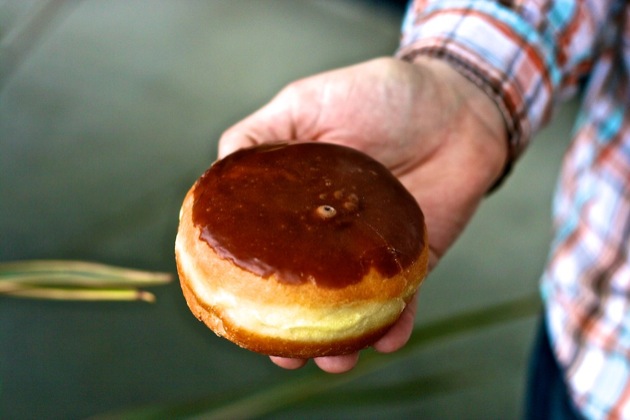 We had four hours to eat in L.A., a period of time which all of us agreed wasn't long enough. While most people would have simply given up and spent the time driving around Hollywood or lounging on the beach, we plowed ahead, sure we could catch a plane and sample some of the best food in the city along way. So our afternoon in L.A. was spent cruising the endless sprawl of concrete and zig zagging through the streets in search of the best edible treats we could find, all with one eye on the clock. The goal was to resurrect the New York Gorgefest of 2007, that great Manhattan adventure which chronicled us stuffing ourselves silly for half a day. And like all quests, we had help from a trusted friend and his car. We also relied on a mixture of recommendations, Jonathan Gold's invaluable 99 Things to Eat in L.A. Before You Die , and dumb luck.
We started the day as one should when in LA: with a donut. Donuts are big stuff in LA. Maybe it's the driving culture, or too many cops with nothing to do. But there are dozens of quirky little shops that all do the one thing mandated to cook a great donut: fry them in-house. With a long day ahead of us, we relied on the recommendation of some friends for a place near our hotel. It was called The Donut . Somehow, the straightforwardness of that name was too appealing to pass up.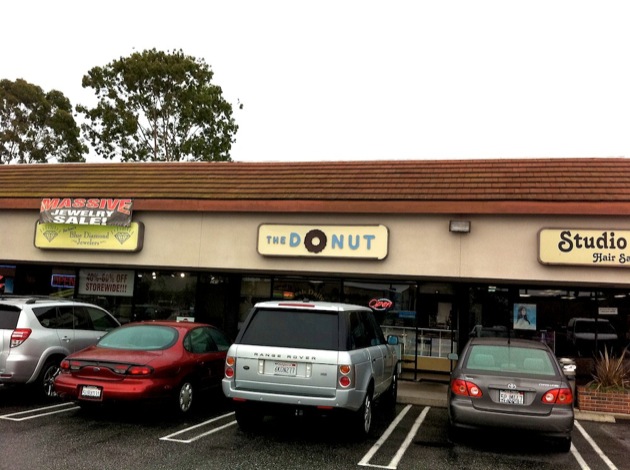 The first of many strip malls
Their plain-Jane glazed donut was excellent, the kind of flawlessly executed product that's kind of hard to describe.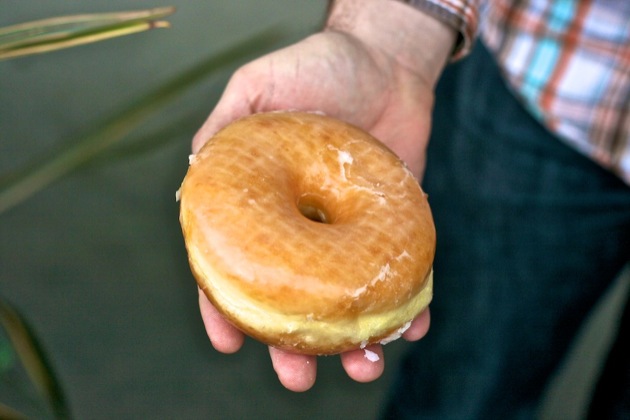 Good morning...
But we were most impressed with the cake donut (not pictured, unfortunately). There are two kinds of donuts, yeast and cake, and generally we're more into yeast donuts. But the cake donut at The Donut was marvelous—a tender, moist crumb, just sweet enough, with a subtle yeast flavor. Never has a foodstuff been better for dunking in coffee. Never.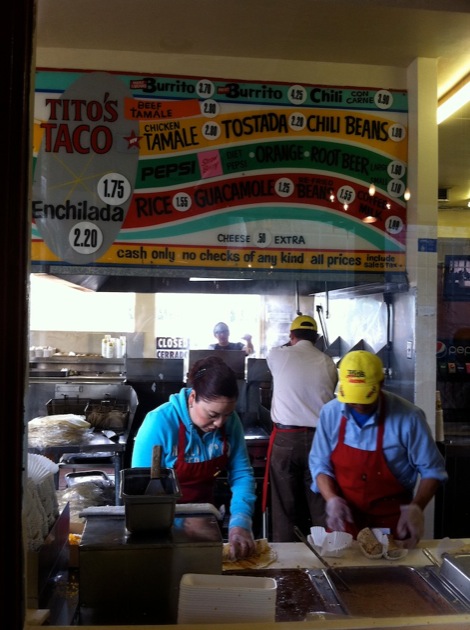 Inside Tito's Tacos
With a donut in our bellies, we set off north for Tito's Tacos , an L.A. institution where the tacos come fried, heaped with shredded lettuce and cheese and served with a fresh tomato salsa reminiscent of a pureed pico de gallo.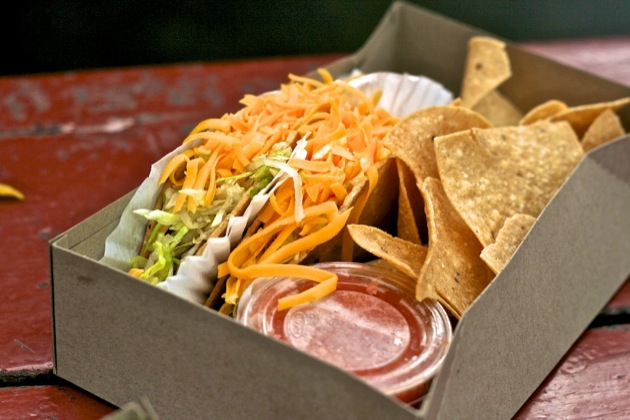 Extra fried chips come with every order.
Yes, you recognize this: it's the kind of curved, crisp, yellow shell that appeared every time at taco night on the dinner table growing up. It's also one of our least favorite foods, since we've spent a little too much time discovering the authentic Mexican cuisine of Mexico City, Puebla, and Oaxaca . But it was recommended by Jonathan Gold, and it had been open since 1959. Surely they were doing something right.
We could smell the bubbling oil the moment we opened the car door. We took this as a good thing.
Instead of importing pre-fried shells, they had huge vats of bubbling oil, which they used to fry taco shells constantly throughout the day.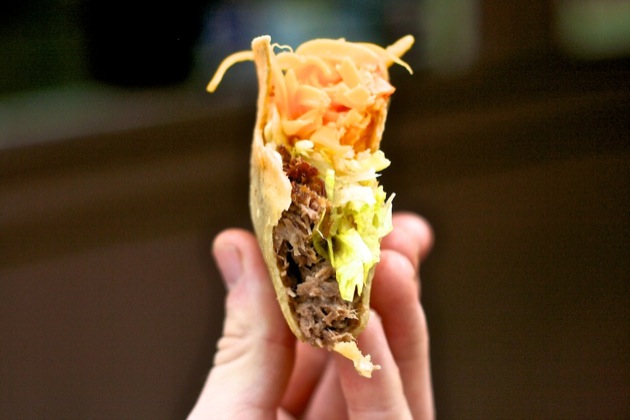 A look inside...
And they weren't just tossing ground meat in these things, but succulent shards of beef that had been slowly cooked until they were impossibly tender. There was no ground beef in sight. The hard shell taco had become something delicious.
Tito's is delicious on its own terms, and its authenticity as Mexican food is now beyond the point. Merely by not taking any shortcuts for fifty years, it has created its own authenticity, something completely its own--and well, it's utterly delicious.
Switching directions completely, we then set off to visit Langers , Los Angeles's most famous Jewish deli. We've long been fans of Katz's deli (which was the final, glorious stop in the New York Edition of Gorgefest ), and some claim that Langers' pastrami beats Katz's. Fighting words.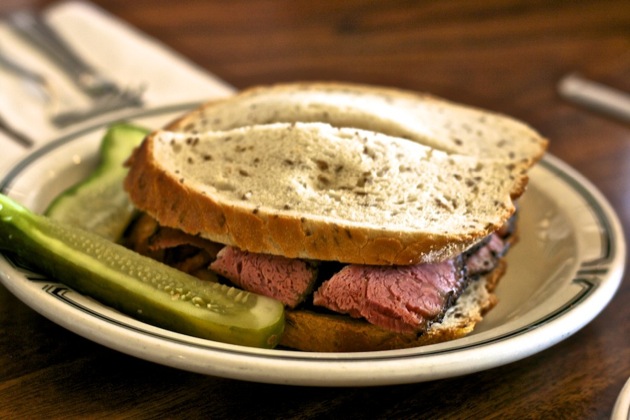 The pickles are great, too.
We ordered two sandwiches: their basic pastrami on rye, and a Reuben-like sandwich with toasted bread, sauerkraut, pastrami, and some kind of cheese-like dressing/sauce, featured prominently on the menu.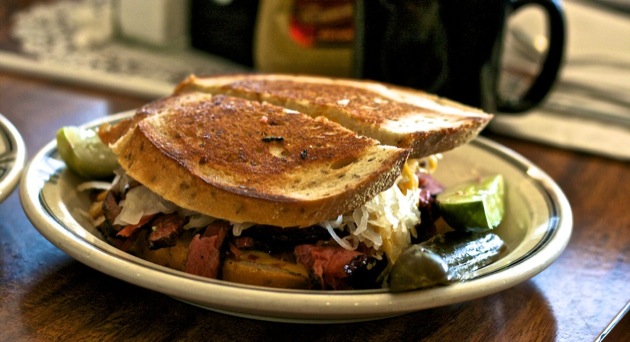 Sauerkraut makes everything taste better.
First impression: the bread was far better than what they serve at Katz's, where the carbs are nothing more than an afterthought, a formality amidst the towering, juicy stack of pastrami. Langers puts a little more thought into it; the bread was terrific.
The pastrami was also amazing—but alas, we think not quite as good as Katz's. It was juicy and tender, but it didn't seem to be as perfectly seasoned. We don't know. It's indefinable quality that swayed us, and we could be completely off. Of course, compared to the options we have in Chicago, this stuff was out of control.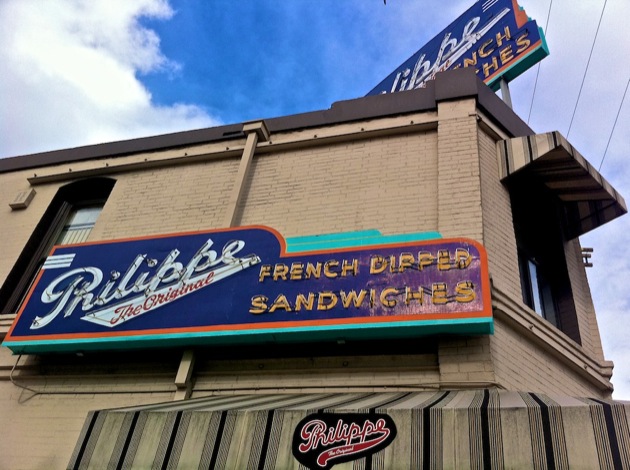 Hmm...what should we get?
After an unfortunate bagel side trip (so bad), we motored over to Philippe's , for our first taste of the French Dip and the restaurant that claims to have invented it. It's another variation on the cheap roast beef sandwich, which in Chicago is manifested in the Italian beef . The L.A. version uses better bread -- a sturdy, crusty roll -- which is politely dipped into roasting juices, before providing a solid station for the wonderful roasted meat.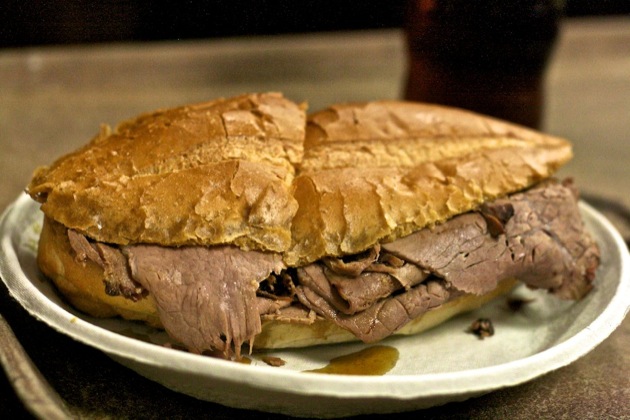 Tender and Juicy
But here prejudice got in the way again. The Italian beef in Chicago is pure, unadulterated beefy pleasure, a romp so good your hands immediately get covered in beef juices. The L.A. equivalent was mannered and slightly underwhelming. A fine sandwich, but just not what we were used to.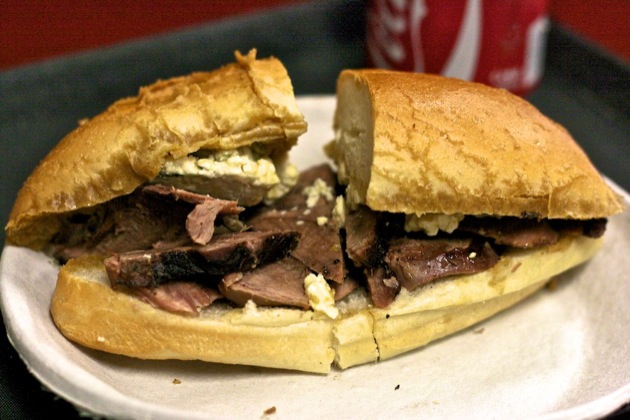 That's lamb.
But the French dip isn't the only option. They also offer other roasts beside beef, as well as a choice of cheeses.  Lamb with blue cheese, which we got thanks to a recommendation from Jonathon Gold, was perfect. When we ordered it, the woman at the counter pulled out an entire steaming leg of lamb, and sliced it to order. The cheese provides a funky, tangy counterpoint to the perfectly roasted lamb. Here's a sandwich we could all get behind.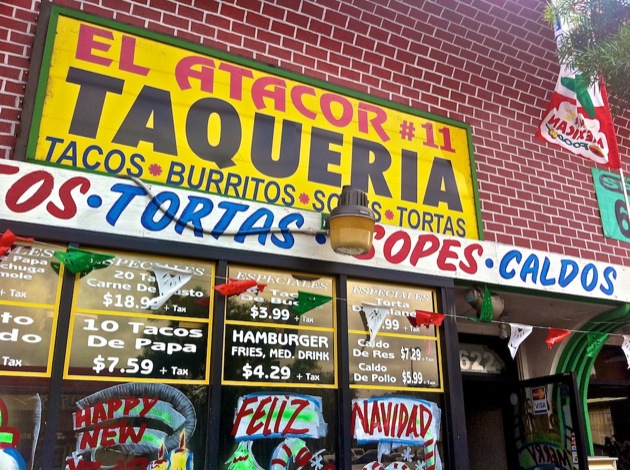 Already in the festive mood.
Time for more tacos at El Atacor #11 . This one was slightly out of the way, hidden in some random storefront in on Figueroa St. We were there for some famous potato tacos, which we know initially sounds like one of the most bland things on earth. Starch on starch? But here soft, almost mashed potato-texured spuds are rolled in corn tortillas and then fried. The result is a shatteringly crisp crust, giving way to a smooth, luscious core of velty smooth potatoes.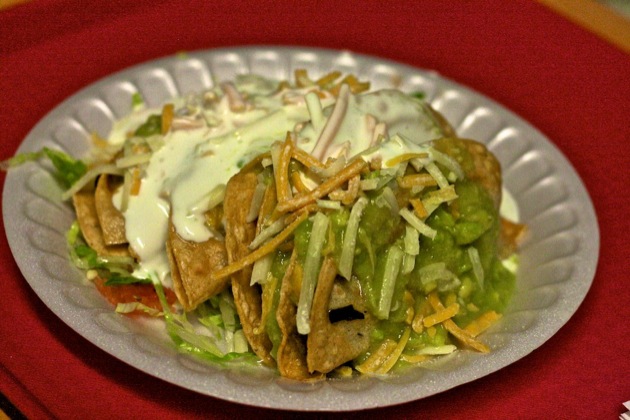 Buried in here are tacos...we promise.
That these are covered in a moutain of cheddar cheese, sour cream, and guacamole, would usually sway us from giving these a thumbs up. But these are good.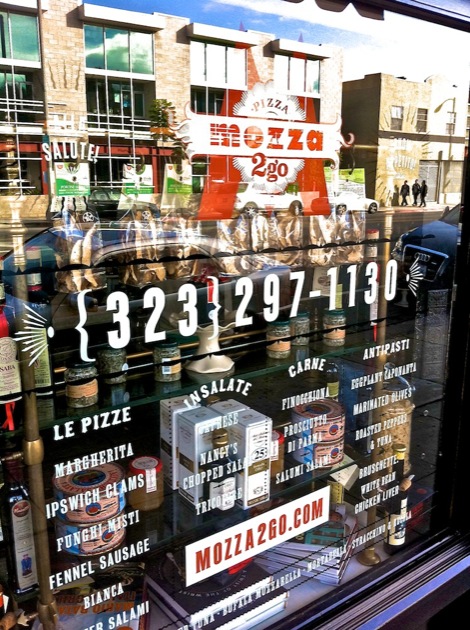 Mozza 2 Go is Gr8
The last stop was for pizza. Being that we've both lived in a New York, and have more than a few excellent pizzerias in Chicago, it might not seem like a necessity to have pizza in California. Neither of us is much interested in the specialty pizzas of the city (barbecue chicken pizza), being more infatuated with the structure of perfect crust. But a stop at a place called Mozza by Mario Batali and Nancy Silverton was alluring enough to warrant our time.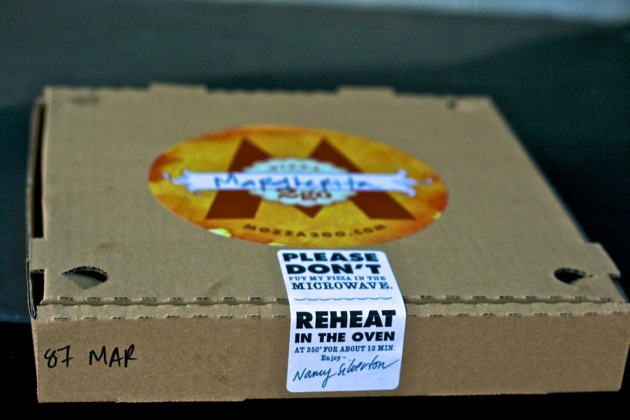 There are rules.
Unfortunately, Mozza didn't have a free table until 11 p.m. that night, which meant we'd have to wait in line for 9 hours. Nope. Luckily, there is a take away window, which ultimately meant we'd be able to get a pizza to go in 20 minutes.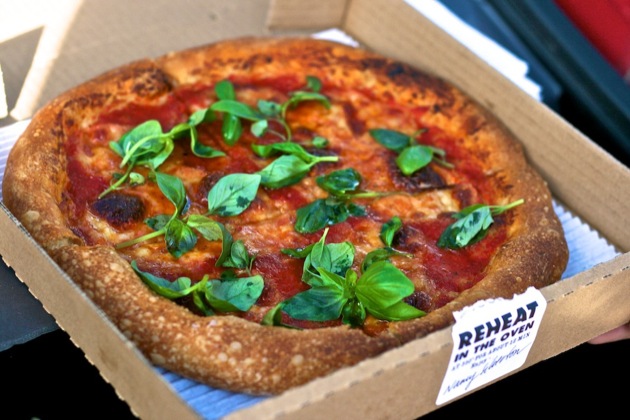 A little different than Dominoes.
It was a wonder. Like Great Lakes and Pizzeria Bianco, the crust has its base in great bread baking. It wasn't quite as exceptional as either, but then again we got this thing to go in 20 minutes. Absolutely stunning.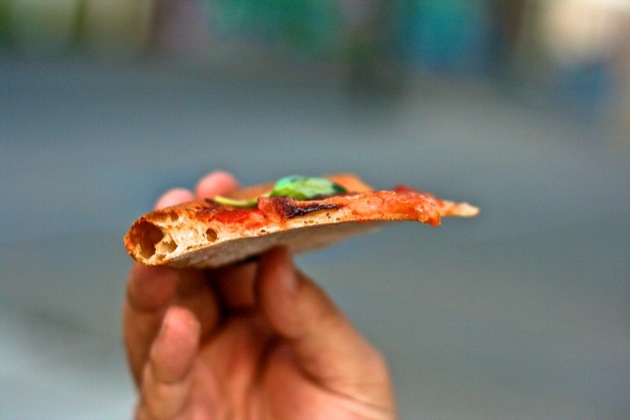 Check out that structure.
The best part of the pizza was the serious crust, which was tender, slightly chewy, and yet could perfectly stand up to the toppings.  It didn't flop over in your hand.
And then we were done. No longer hungry, and completely out of time, flew down the expressway to LAX to catch a plane. There was so much more to eat, and so many cuisines we couldn't get to. But hopefully we'll be back soon enough.
Travel,
American cuisine,
Bread,
Chicago,
Cuisine,
Donut,
Doughnut,
food,
Food and drink,
Jonathan Gold,
L.A.,
Los Angeles,
Louisiana,
New York,
Pastrami,
Pizza,
Sandwich,
Taco