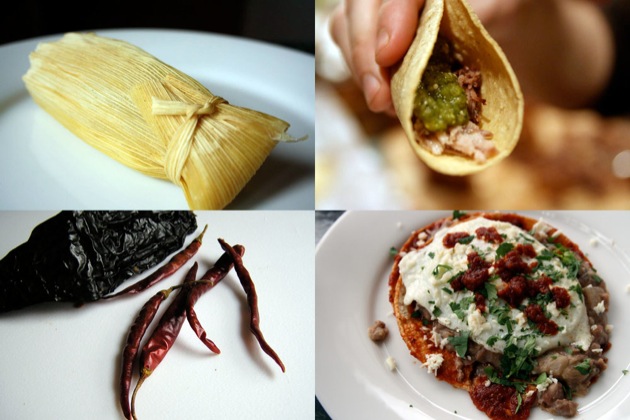 Happy Cinco de Mayo everyone!  Though the specific reasons for celebrating don't have much to do with food, I feel like today is a great reminder of the fantastic Mexican meals I've made over the past year.  I don't really need much of an excuse.  I tend to get weak if I don't have corn tortillas at least 4 times a week.  I mean, I just had some for lunch, and I'm going to have it for dinner.  That's what happens when it becomes your favorite cuisine.  It takes over your culinary life and never lets go.  Of course, I've loved it for a few years now.  Even Blake professed his admiration last year with his own Cinco de Mayo post.

It helps that in the past year I've visited Mexico and moved to Chicago, which has a sizable Mexican immigrant population.  I've been inspired by high end eateries like Rick Bayless's Frontera Grill and by more humble local taquerias.  Both have helped me understand a little bit more of the cuisine.  And if you need a few ideas for a bash tonight all of these will set you in the right direction.
A good place to start is blended salsa . Instead of the standard fresh tomato salsa, this mixes in some dried chilies.  The result is rich and thick and it's as easy as tossing everything a blender and pressing a button.
Another easy recipe is authentic enchiladas .  These are far removed from the greasy, cheese-laden ones served at Tex-Mex restaurants.  These are light, bright and very spicy.  I like the sauce best with eggs, but a meat will do, too.
If you have some fresh masa available in your area, making your own fresh corn tortillas is quite a treat.  Though I usually buy my corn tortillas from a local provider.  They are still warm when I buy them.
This past New Year's Eve, Blake and I made a big batch of carnitas .  Slowy fried in lard, and topped with a tomatillo salsa, these are decadent, cripsy, and very hard to beat.  Rick Bayless called this recipe out as what he would have as his very last meal.  It's hard to argue with that.
One of my favorite sausages is fresh Mexican chorizo .  I've made my own before , and it's surprisingly easy.
Probably my favorite creation over the past year has been Chicken and Tomatillo Tamales . These are an event, and require a little time to get right.  But just make a lot and save some for the hunger pangs.  They taste great even after a spell in the freezer.
Announcements,
cinco de mayo,
Mexican,
Rick Bayless