The weekend before last Elin and her mom and I set off to see four states in four days.  Our goal was to do it just before the tourists and summer heat took over.  In the highly organized itinerary, which would be promptly deviated from, we had plans for upstate New York, Vermont, New Hampshire, and Maine.  The loose organizing principle to the whole affair was to stay in Bed and Breakfasts, and eat well.
We began our trip in the belly of Grand Central dragging bags around, but after a short ride under Park Avenue, we emerged in Harlem into the daylight, through the Bronx, and eventually began to glide up the Hudson river.  Out of the city's density the landscape opens up and blurs into a melted rush of blue, gray, and green. The tracks run right along the water and into the Hudson valley.  It's got to be one of the most beautiful train rides in the country.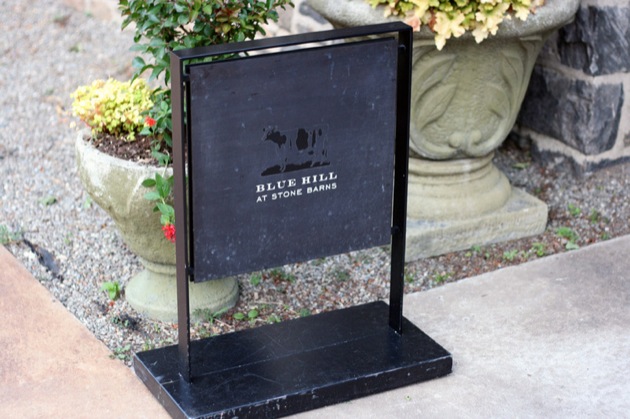 Our destination was Blue Hill at Stone Barns , our second visit (the first was in December of 2007 to celebrate our anniversary).  We walked into the restaurant and the first thing we saw was Ed Levine sitting at the bar chatting with Dan Barber--he was finishing up his review for Serious Eats .  Robyn Lee was snapping photos of sous vide chicken with morels.  With a hungry stomach, I got a little preview of Ed's amazing enthusiasm for Blue Hill and what Dan Barber is doing there. " The most important restaurant in America !" he proclaimed, while simultaneously giving the disclaimer that he wasn't one for hyperbole.  And then he was back to the city--but our night was just beginning. It would be quite a special one.
Ed's review is the best thing I can have you read to understand how wonderful this restaurant is, which has no menus, by the way--they just give you a list of what's in season and you tell them what you don't like.  There you'll see mini asparagus burgers, "face bacon," charred snowpeas, and many other courses we enjoyed.  One dish isn't in his post, though, and it was one of my favorites: a salad which began with a pine nut puree spread on a slate tile alongside a smear of yogurt; on top of that was a delicate mixture of arugula and other leaves and flowers, asparagus, and puffy clouds of what might have been Parmesan foam, but which I can't remember now.  There were also scattered pistachios.  The richness of the pine nuts next to the light tang of yogurt was something to behold; the gentle spicy arugula leaves added wonderful flavors.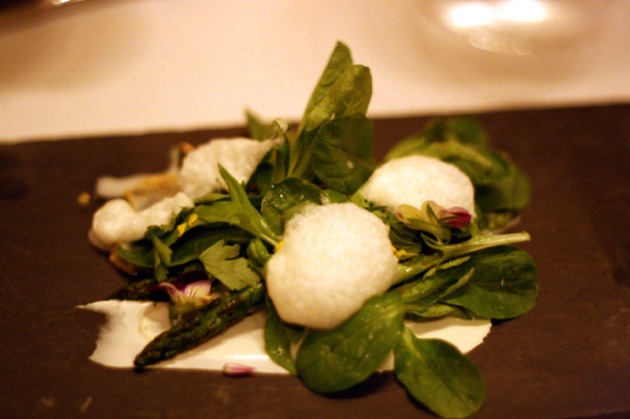 The charcuterie cart was also something -- especially because during out last visit we were invited in back to see the kitchen, and we got a glimpse of their charcuterie operation which was in-progress but not yet unveiled.  This time, we got to taste the salamis we'd seen hanging months earlier.  Everything was cut tableside with a manual crank slicer and served with pickled vegetables, including ramps.
The dessert (or one of them) really blew me away: a rhubarb souffle/meringue sort of thing, both bready and airy and beautifully tart, which was next to farmer's cheese ice cream (!).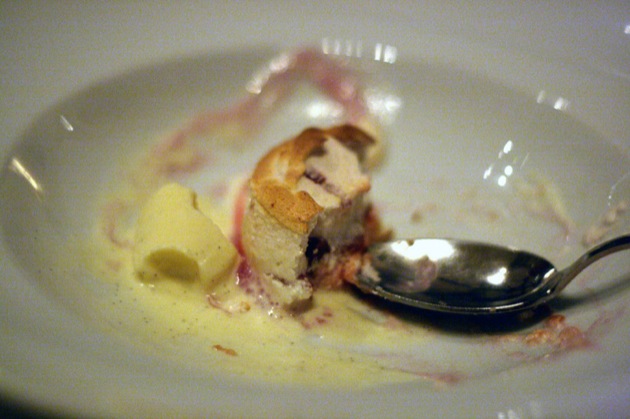 The next morning, despite plans to hit the road, we found ourselves drawn back to the restaurant, so we followed our instincts.  There, we spent 3 hours tramping around the grounds of Stone Barns, where we met the chickens, pigs, sheep, and vegetables that the restaurant uses for its ingredients.
Our charcuterie slicer guy was there, this time in more casual clothes tending to some seedlings, and we also managed to find a sow and her piglets, who were toppled on one another in a shady grove in the woods.

Our our way upstate we stopped at the Dia museum in Beacon, New York, which was absolutely stunning.  An airy restored factory, the space is also blessed with a saw-toothed roof which distills gorgeous, diffuse natural light--the only source of illumination in most of the museum--onto giant, hulking minimalist artworks.  Many artist's studios are designed with the same north-facing light.  I saw a number of Dan Flavins , who I wrote my art history undergrad thesis on, and saw a number of Robert Rymans in person, one of my favorite painters.  A temporary exhibit of Agnes Martin's beautfully assured, sublime paintings was also on display.
We left New York for Vermont, where we stayed at the wonderfully restful Shoreham Inn (who reminded us of the aphorism at the top of this post).  We checked out Middlebury and visited Blue Ledge cheese makers -- who weren't expecting us, by the way, and are not exactly used to visitors.  We stubbornly found them on a map after chatting with Lisa (their intern) at the Middlebury farmer's market, driving our ill-equipped rental car down a dirt road just in time to interrupt their lunch.  They were totally gracious, though, and offered to let us hang out with the non-milking goats until they finished eating.

The goats were as friendly as puppies and very interested in their new visitors.  Most of them were fenced in one part of the barn, but they all came to the fence to say hello and be pet.  A few very young ones were roaming about.  They loved having their horn nubs scratched, and kept trying to eat my shorts.
The cheese caves were neat (no pictures, though), a sort of bunker dug into the ground to cut down on costs to keep the aging rooms at cool temperatures.  The cheese, which we had tasted at the market earlier, was truly excellent.  They offer a number of varieties which you can purchase at Murrays, Saxelby cheese, and other spots in New York.  You can also order it from their website . The Lake's Edge is especially good.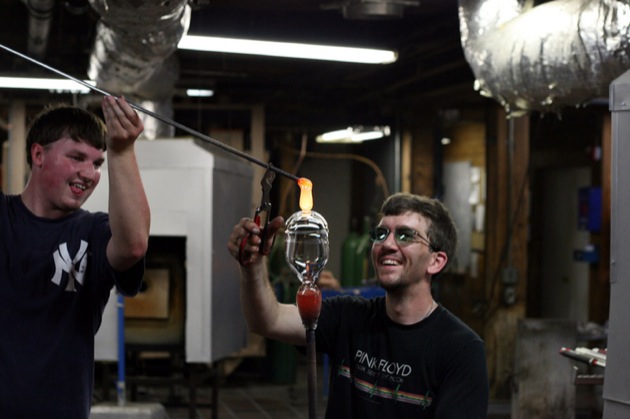 That night we went to the Simon Pearce glass-blowing factory and watched them make a vase.

Attached to the factory is a restaurant that looks out over a beautiful waterfall.  The food is very expensive and ambitious with pretensions of fine dining, but we were a bit disappointed.  Still, the setting was stunning.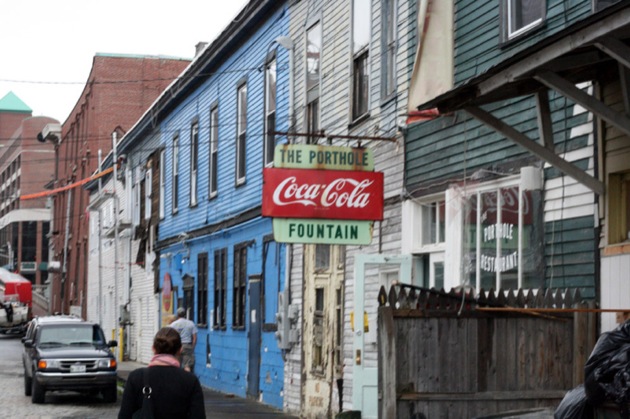 After Vermont we made our way through New Hampshire to Portland Maine -- where Elin and I have been before -- to eat some lobsters and explore the town.  It was as cool as we remembered it, and we stayed in a place called Pomegranate Inn which is situated in a neighborhoody setting just a few minutes from downtown and is decorated with a delightful, whimsical touch.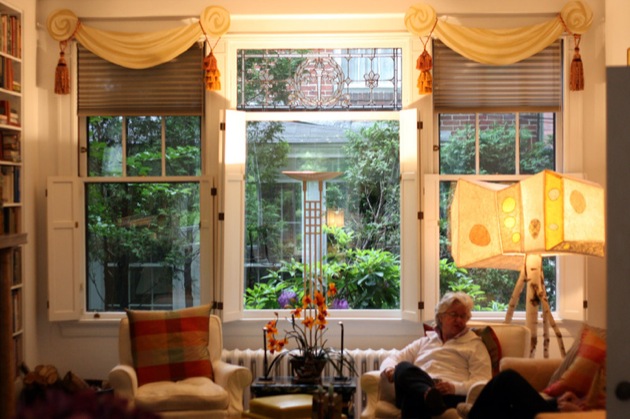 We picked up some raw milk in our spare time, then had lunch at Porthole .  The seafood chowder was good, and our lobster roll hit the spot (after we mixed the meat ourselves with their on-the-side aioli and laid it back in the bun carefully--you just have to take matters into your own hands ).

Eventually we went back to Fore St ., our second time, one year later.  We started with prosecco and cocktails, and despite the waitress's confusion, they pulled off a proper sazerac , my favorite cocktail, quite nicely.  The mussels were as good as we remember , and we all opted for fish -- sea bass, cod, fresh herring, and a gorgous smattering of vegetables sides.  Almost everything we ate was perfumed with smoke from their wood-burning oven, flavorful and fresh and inventive.  Elin and I are going to make this place a tradition.
The next morning, we had to head back -- so on our way out of town we picked up a sackful of paninis from Duckfat (no fries, though) and hit the road back to Brooklyn.  They sustained us all the way home, along with countless bottles of Nantucket Nectars.  Our drive into New York, on the Merrit / Hutchinson River Parkway, was almost as beautiful as our ride upstate on the train: a parkway that actually live up to its name, with trees lining the divider and beautiful old bridges spanning the road every few miles.  It's the only way I'll ever drive back into New York again.
Blue Hill,
Dan Barber,
Ed Levine,
Maine,
Restaurants,
Travel,
Travel,
Vermont