How to save money in the stylish Spanish city.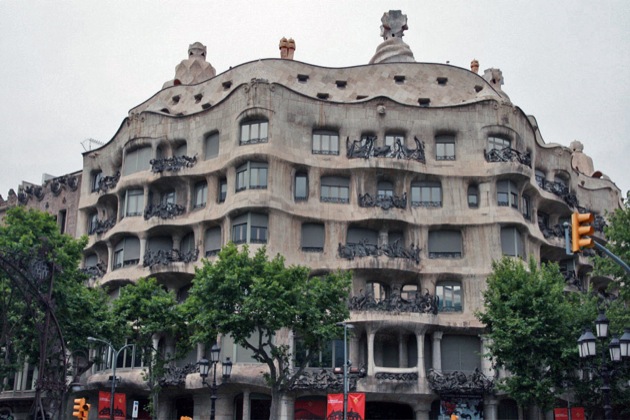 While Nick has been saving the world with quick no-soak-beans and investigating the roots of Wisconsin bratwurst (part of my family is from Wisconsin and I hope to weigh in with strong opinions on the subject sooner than later), I've been on the run, away from a kitchen, squeezing every trip out of Europe I can afford.  Which isn't much at the moment.  But a lack of cash didn't deter us from enjoying some of the best food Barcelona has to offer.  This week Elin and I return to the States, and we have only murky plans to return to Europe, so we felt like this was our last chance--even if it would be on the cheap.
We arrived in Barcelona on a sunny day, and were immediately swept up.  The energy of its streets, its stylish confection of modern and classical architecture, the big-heartedness of its people--and of course, the food.
Remembering our trip to Catalonia, the word generosity comes to mind again and again. George Orwell wrote all the way back in 1938 in Homage to Catalonia of the "essential decency" of Catalan people, "their straightforwardness and generosity," as well as something else, a "generosity in a deeper sense, a real largeness of spirit, which I have met with again and again in the most unpromising circumstances."  No doubt his romantic observations remain fundamentally true to this day.
What I loved about Barcelona was its mix of old and new, the Parisian-like architecture I associate with European cities animated with modern gestures, dreamy visionary buildings that add up to a slap-dash, energetic melange of style.  There is a now-ness to everything that's invigorating.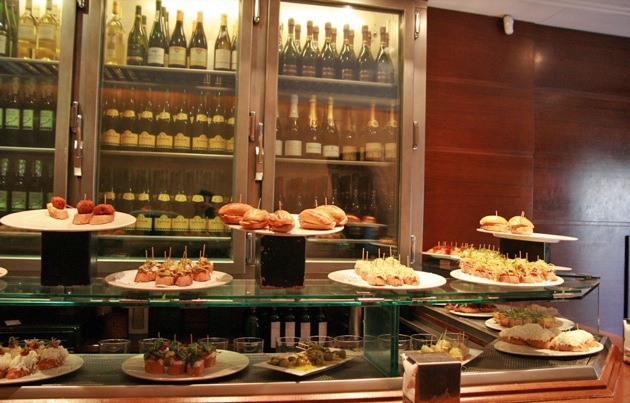 To try and save a little cash, our approach to eating in Barcelona was to avoid full-on meals and spend our time grazing in tapas bars, aiming to try as much as possible.  Because while generosity describes Barcelona's people and lifestyle, it also happens to describe the size of the prices.  Our dinner was often a baguette, wedge of cheese, cured ham from the grocery store, and a bottle of 4 euro wine--which is nothing at all to complain about, especially the fact that a 4 euro bottle of local wine can be remarkably good.  After a filling breakfast and dozens of little plates of food throughout the day, the simplicity of that kind of meal was perfect.
The following were our highlights from our time in Barcelona.
Boqueria Market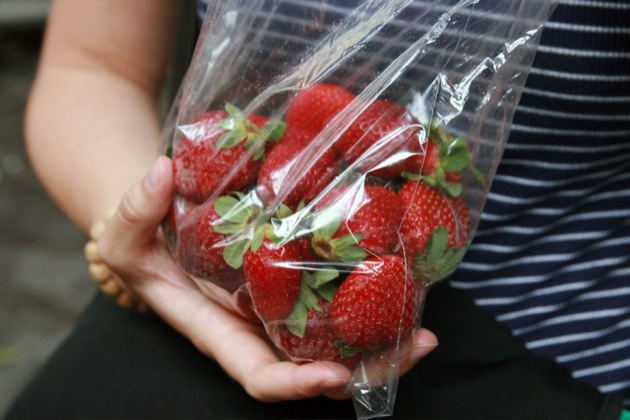 The Boqueria is located along Las Ramblas, five sections of a single street, without a doubt the most famous in Barcelona.  Its berth leads from the epicenter Plaza de Catalunya all the way to the water.  To its east is the Barri Gotic, the original medieval portion of the city, and to the west is the hip El Raval section.  Las Ramblas has a long history of street performers, aviaries, flowers, street food, and throngs of tourists.  But even locals intermingle with them under a long tree-shaded promenade flanked on either side by one-way streets and cars manned by impatient, ruthless drivers.  There are loads of tourist traps but also gems.  Everyone says to begin a visit to Barcelona there, even as they also slip in qualifications that it's touristy.  The fact is, Las Ramblas are dramatic and necessary, and reveal some of Barcelona's frenetic energy.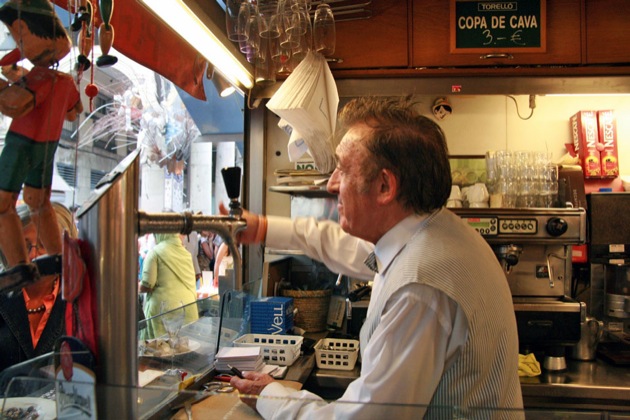 The Boqueria Market is in the heart of Las Ramblas.  We bought a half a kilo of strawberries for 70 cents, then perused the countless counters of vegetables, fruits, nuts, cured hams, fresh meat (including a tiny stand trafficking in nothing but offal), and cheese.  But our eventual destination was Bar Pinotxo for breakfast.  We walked up just as two seats were vacated at the bar, so we sat down.  We were told to try the beans, so we did, which were tiny white runner beans, impossibly tender, served with seared baby squid and a sauce made from olive oil and the squid's own ink.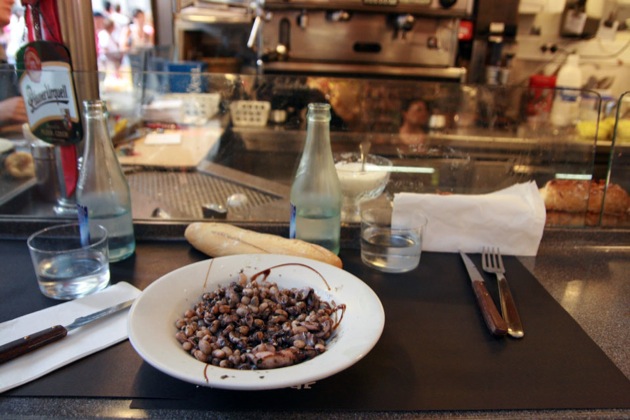 The flavors were marvelous, as were the texture of the beans, which were in a state of tenderness and creaminess that's no easy feat.  The squid were soft and gently chewy against the creaminess of the beans, and their ink gave the bowl a complex sweet-salty flavor, a rich sauce straight out of nature itself.  The olive oil brought a fruity roundness.  It was wonderful.
Patatas Bravas
Patatas bravas, which you can order in pretty much every restaurant, are sort of thick fries soused in a mayonnaise-style sauce and a spicy-sweet sauce on top of that.  Sometimes they come thin like French fries, sometimes larger wedges, always covered in sauce.  We ordered them without fail, as a cheap and delicious way to make sure we never left a tapas bar hungry.  The absolute best ones we had were at a place called Cuines Santa Catarina, attached to the Santa Catarina market (they cull much of their ingredients from it as well).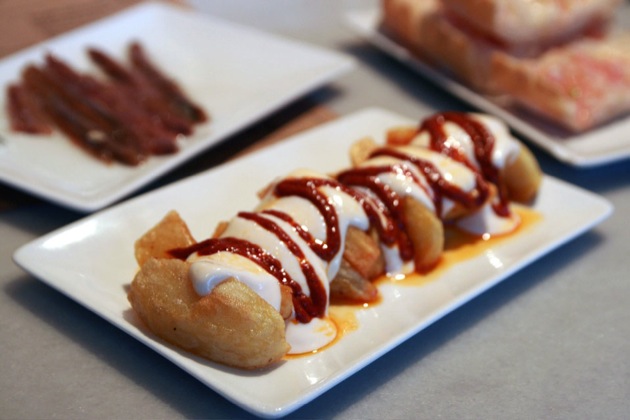 Describing their patatas bravas has me swerving into hyperbole--possibly the creamiest potatoes I've ever tasted, an airy, thin layer of crispiness on the outside, rich garlickly aioli, everything cut through with the high notes of a sweet chili sauce.  I dream about them.
Pan con Tomate
In other parts of Spain this is sometimes known as Pan a la Catalana. The idea is genius: crusty bread, usually toasted, rubbed with garlic, smeared with the flesh side of a halved tomato, drizzled with olive oil, and sprinkled with flaky salt. We ordered it everywhere we went.  The best we had was at a stupendous tapas bar called Inopia (more on that later), where it was grilled.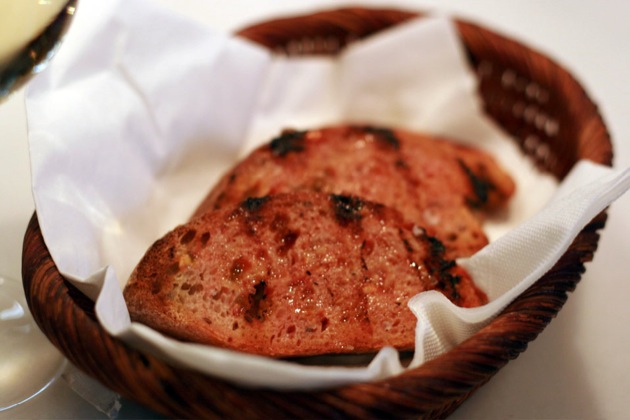 A version we had at a delightful four-generation family-run restaurant called Can Roca on the Barceloneta peninsula, a beachy outcropping of the city, was also good, and served with one of the best aioli sauces I've ever tasted.  The paella we ate there was also good, but the bread is what we remember, as well as the charming, ship-like restaurant interior.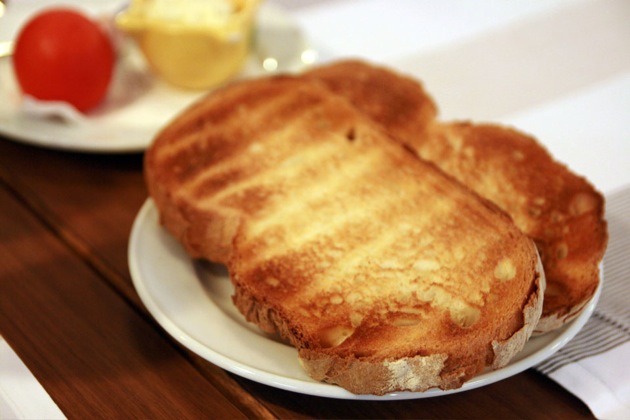 A deconstructed version at a place called Tapas 24 was also memorable--rather than rubbing the bread itself, they brought a plate slicked with olive oil and scatted with grated tomato for us to dip ourselves.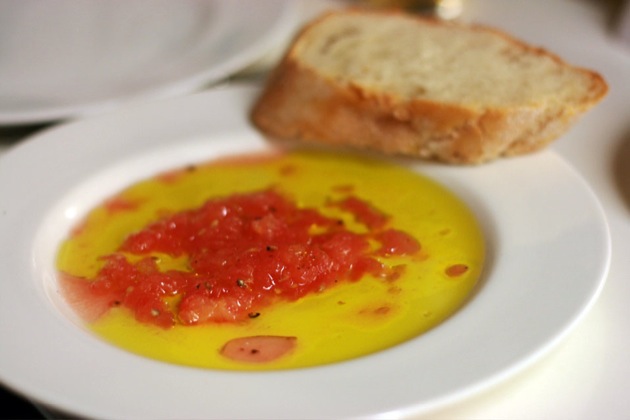 Pan con Tomate can be eaten as-is, or it can just be the beginning, the bread for a few layers of cured ham or medallions of cured chorizo sausage.
Anchovies
Along the coast of Spain between Barcelona and France, known as the Costa Brava, they catch and cure anchovies that are increasingly growing in fame.  Though Italian salt-cured anchovies are probably the most prized by chefs (you'll often read recipes that specifically call for them, probably to encourage quality), the lesser-known Spanish Costa Brava anchovies may be as good or better . In many tapas bars we visited, the anchovies are served by themselves on a plate to be savored like a fine cheese or cured meat.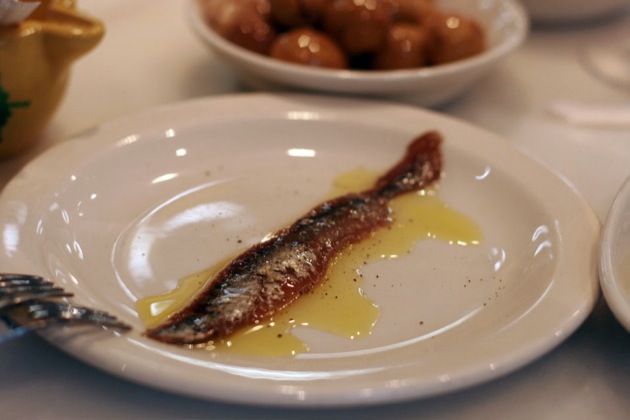 And it works: the depth of flavor in these little guys is incredible.  Above is one we enjoyed at Inopia, Anchoas del Cantabrico.
Quimet i Quimet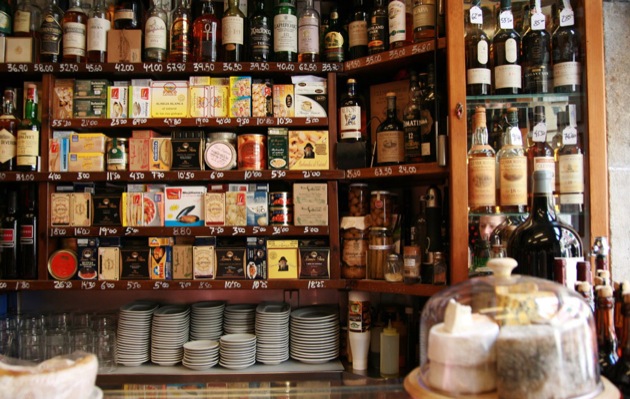 Eating at Quimet i Quimet was our introduction to Spanish canned food, known as conserves, mostly fish and shellfish, a curiosity hard to grasp, and slightly comical: in Spain, people prize canned fish from mussels to clams like great pinnacles of gastronomy.  Apparently they are aged in the cans and sometimes go for astronomical prices.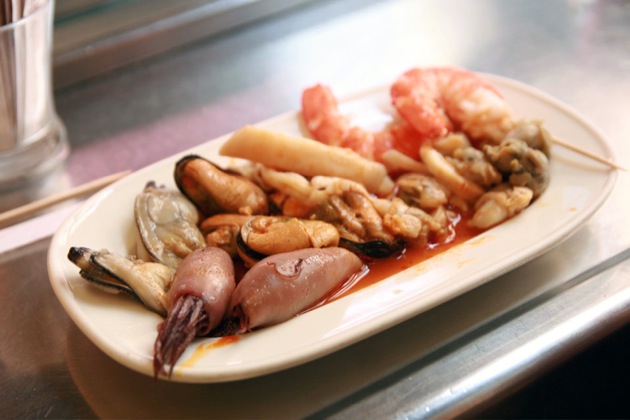 At Quimet i Quimet, they build tapas around them, like our plate of mariscos (shellfish) doused in a vinegary sauce, or a plate of cured fish.  The flavors tended to be very strong and sharp, a whole different experience from eating the seafood cooked from fresh.   Even the cheese plate they made up was full of sharp, piquant tastes that woke up our palates.  The flavors aren't for everyone's taste, but it was a geniunely interesting experience.
This next picture reminds me of another thing which we ordered everywhere, that first learned about in our trip to Madrid : the caña . It refers to a small glass of beer, sometimes as cheap as 1 euro, which does wonders with keeping costs down.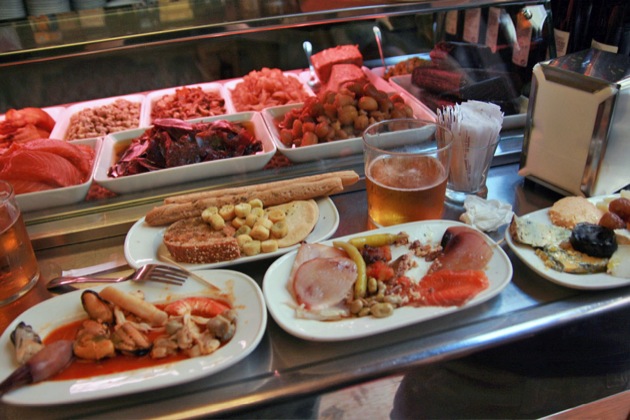 The place itself was a marvelously handsome room, lined with dark wood and wine bottles on three walls (the third, behind the bar, with the infamous cans).  Our barman was genteel and kind, arranging and constructing plates rather than breaking a sweat by doing much cooking.  Old stout men, their shabby tweed lingering of cigarette smoke, talked shop with the owner.  It had the feel of an old bar from another time, the quiet regular coming to savor a time past.
Inopia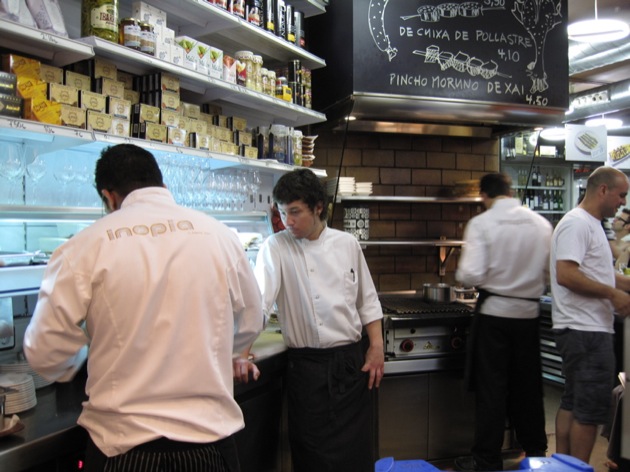 If you caught that silly PBS TV show with Mario Batali, Mark Bittman, Gwyneth Paltrow and Claudia Bassols, you might remember the episode where they pick up Michael Stipe, leader singer of R.E.M., and spend a debaucherous evening at a tapas bar called Inopia, which is run by Albert Adrià, Ferran Adrià's brother.  As boring as the show often was, forcing viewers to spend absurd amounts of time watching Mario and company eat and murmer and generally say little of interest (Anthony Bourdain was particularly harsh in skewering this show), for some reason this particular moan-and-mumble session at Inopia seemed genuine.  They really were bowled over by the food.  We thought of Inopia, which turns out traditional tapas with that extra creative push to make them something special, as our cheaper way of partaking in the food of the Adrià family.
Well, we weren't disappointed.  We spent a lot more money than we planned but had a blast--a woman sitting next to us was an American from San Francisco currently living in Bangkok, and since we hit it off we all shared what we ordered and so doubled the amount of food we could try.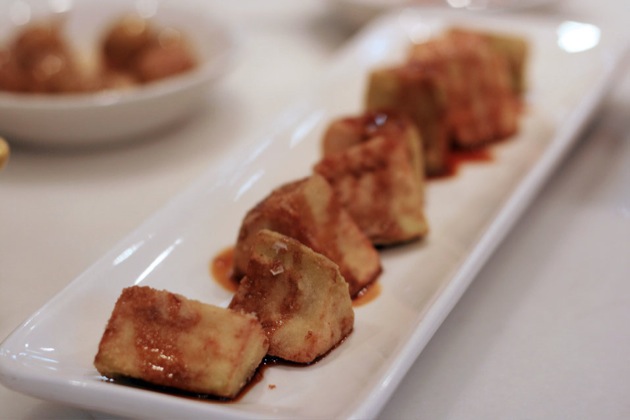 We began with the Pan con Tomate, and alongside the bread we sampled two kinds of anchovies from along the Costa Brava, plus a bowl of olives.  Next, a truly strange dish of eggplant that tasted nothing like eggplant (above).  It was deep fried but somehow the interior was creamy and sweet; a caramel syrup was drizzled over all the pieces.  It was the kind of cooking you could never deconstruct without watching the chef's make it themselves.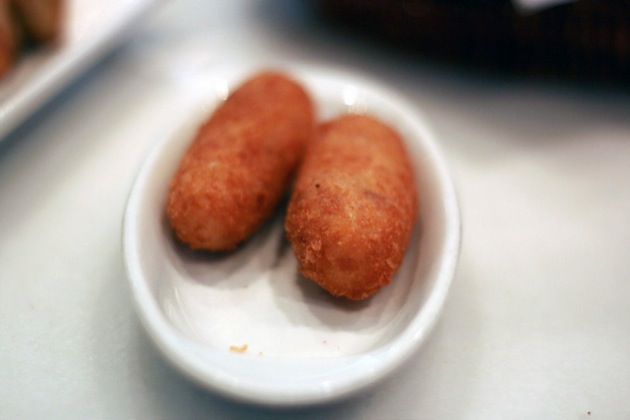 We also had two heavenly croquettes filled with iberico jamon, easily the best croquettes I've ever eaten.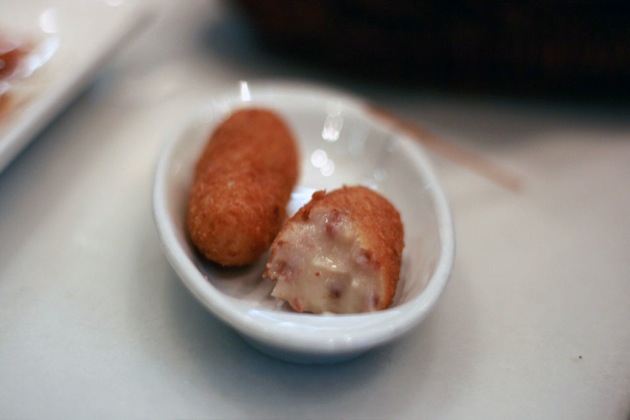 Then there was heavenly white asparagus, as big as the ones we had in France , drizzled with a perfect aioli.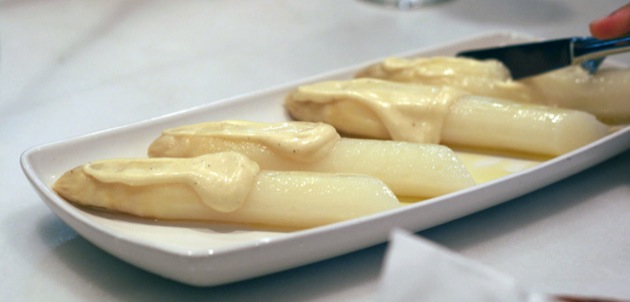 Later there was the classic "bikini" sandwich, which is always filled with ham and cheese, in this case iberico.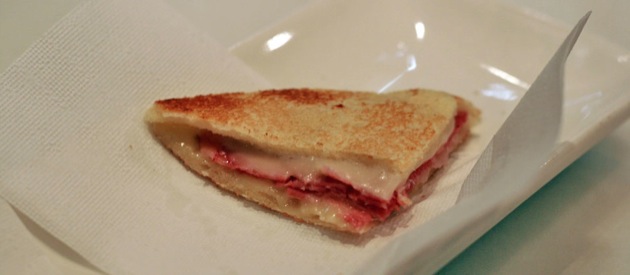 Later still there was gambas, lightly breaded tempura-style and deep fried.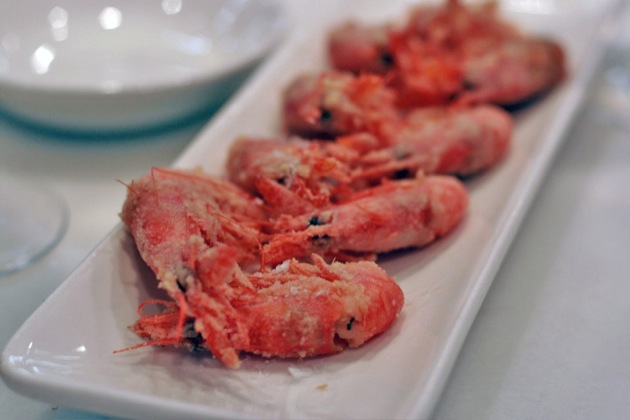 We finished with a tiny bowl of the smallest wild strawberries I've ever seen, covered in a port-style fortified wine.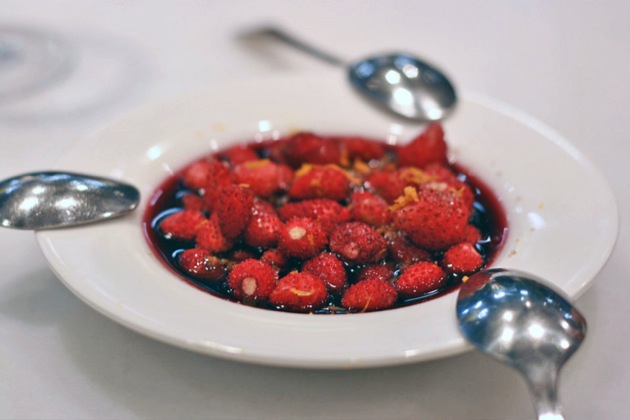 Cuines Santa Catarina
Perhaps our favorite find of the trip, mostly because we hadn't read about it or planned to find it, was Cuines Santa Catarina, makers of the transcendant Patatas Bravas mentioned above.  We liked it for its casual vibe and unpretentious approach--and reasonable prices. A place like Inopia you visit only rarely; I could imagine myself coming here after work for a quick bite to eat all the time.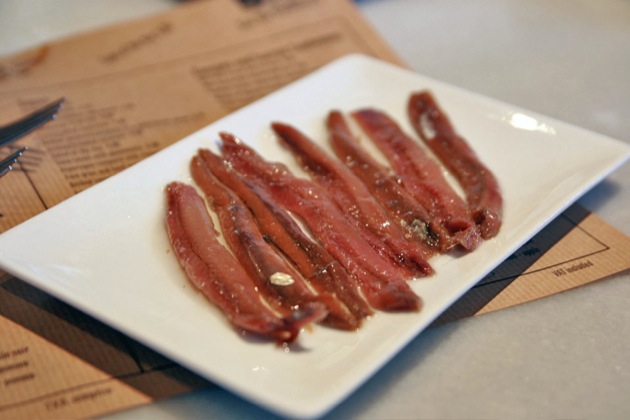 We rolled in at 5pm on a weekday where pretty much nobody was there--lunch hour was over, and tapas hour hadn't yet begun.  We struck up a conversation with the barkeep (which ended with a free sampling of top-notch 3-year old iberico ham, which goes for something like 20 euros) and ended up returning later in our trip we enjoyed it so much.  Everything we ordered was expertly cooked and hit all the right spots.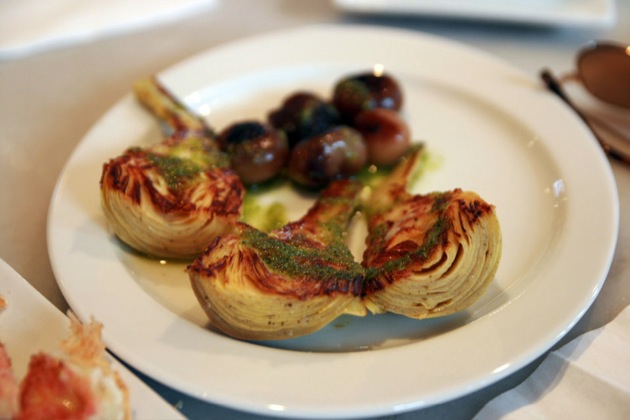 I've already mentioned the potatoes, but there was also fabulous anchovies, griddled artichokes with sweet and vinegary caramelized onions, good pan con tomate, a little bowl of warm chorizo sausages, and a fabulous tarte tatin dessert.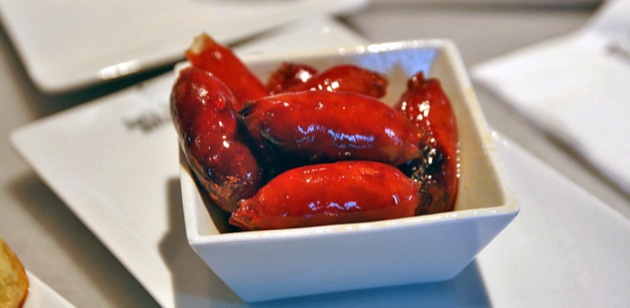 The Architecture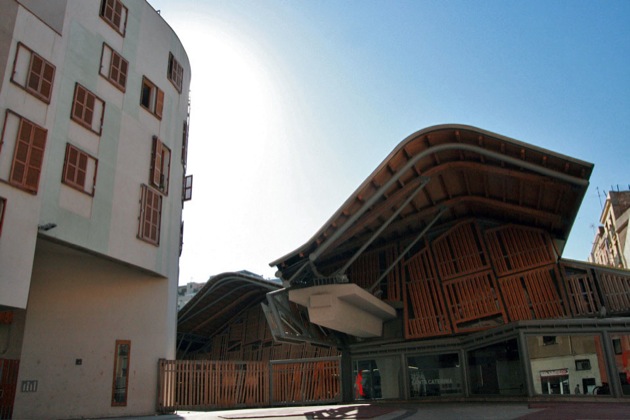 Barcelona is also, in many ways, synonymous with Antoni Gaudí , its most famous architect. His Art Noveau style buildings are like the surrealist equivalent in architecture: they take familiar forms and filter them through a half-mad imagination.  The result is like reality in the way a dream is like reality: almost-but-not-quite, unsettling, deeply unconscious.
Travel,
Anchovies,
Andalusian cuisine,
Appetizers,
Barcelona,
Barcelona,
Catalonia,
Croquette,
Cuisine,
energy,
Entertainment,
Europe,
Fast food,
food,
Food and drink,
George Orwell,
Ham and cheese sandwich,
Man Made Disaster,
Meals,
oil,
Patatas bravas,
Sauce,
Spain,
Spanish cuisine,
Tapas,
Tapas,
Wisconsin