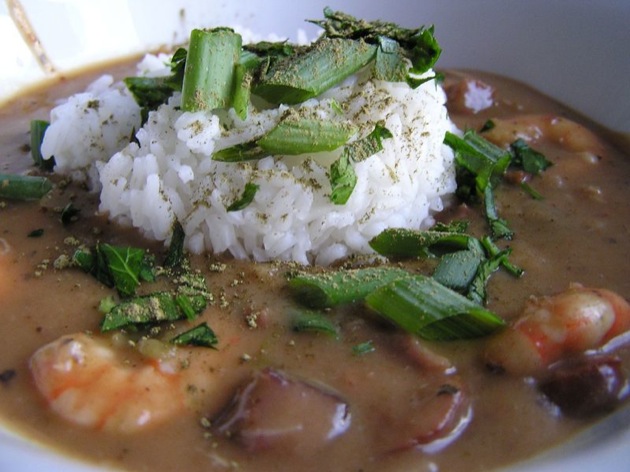 I can't remember exactly where the conversation began, or why we suddenly started talking about New Orleans, but for about 5 minutes last Friday Night I waxed poetic about the Crescent City.  My interest has been explored before , but apparently my chatter seemed especially interesting that night.  I suppose I could have been because my friend Hal had never been, and I took umbrage.  It was late, and alcohol was slightly involved (though probably not as much as one might expect).  All I know is that at 1:30 A.M. on a Friday night (okay Saturday morning) we decided to drive to New Orleans.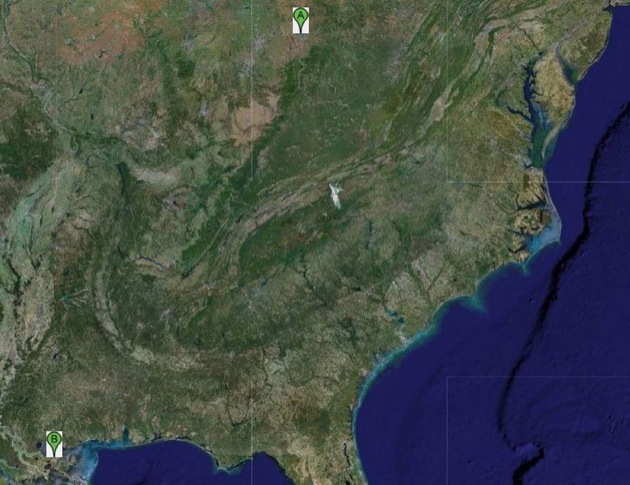 That's a 13 hour drive, give or take an hour.  I'd driven there before, albeit from Columbus, IN and at a reasonable hour - the morning.  But this couldn't happen after a night's rest.  By that time we wouldn't get down to the bottom of the continental United States until late on Saturday night.  Then we'd really only have one day in the city before we'd need to drive back on Monday.  No, it was now or never.  We got some White Castle coffee to calm down.  I walked my dog.  And at 2:00 A.M. we left Columbus, Ohio with overnight bags, a charged ipod, and only a vague idea of how we were going to get there (we figured we'd just drive south and look out for signs).
Now, Abby was away.  That explains how this idea ever got past the "ridiculous Nick" comment to the "that's sounds perfectly plausible" plan.  She was visiting a friend in North Carolina for four days and I was completely free to do what I pleased.  And it was Memorial weekend.  Of any weekend in the whole year, this would be the only time I'd be able to do this.
The only tiny concern I had was my dog.  As I drove away from the city my little puppy was locked in his crate wondering why he wasn't sleeping on my bed.  He'd be perfectly fine until morning.  Hopefully by then I would have gotten a hold of my sister, who could take care of him for the weekend - she only lives a few blocks away.
It's only when we talked about divvying up driving that things really began to break down.  Considering we started after I usually go to bed, we both weren't sure how that would work.  But we made it out of the city limits, filled up for gas, and made it halfway to Cincinnati before our senses got the better of us.  It took us an hour to get home, meaning we didn't get home until 4:30 A.M.
Sort of a sad tale, no?  We think a 3rd man might have helped.  But it wasn't meant to be.  I worried that Hal's first drive into the city was going to happen with a unclear mind, and a tired body.  It deserves better.  As we were driving back in shame I decided to throw a feast to show what New Orleans has to offer.  It wouldn't be the same, but it would be close.
For guidance I went to my favorite New Orleans Cuisine blog, Nolacusine.com .  The dish I settled on was File Gumbo , a seemingly simple sounding dish, but one that certainly was not.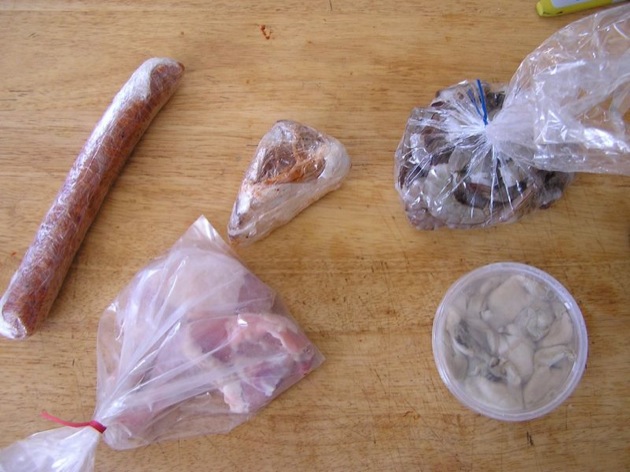 That's andouille sausage, tasso ham, shrimp, chicken, and a dozen raw oysters.  Not exactly a cheap meal, but after not spending all that money on actual travel to New Orleans, I think I deserved the extravagance.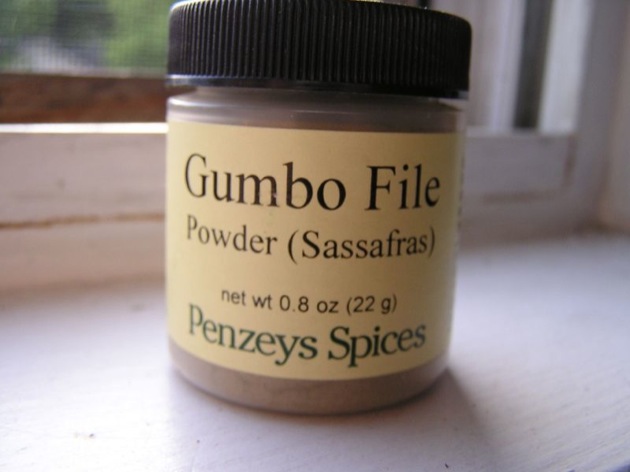 I decided on the recipe because of the use of file powder.  That's dried sassafras leaves.  I had bought this cute little bottle at Penzeys Spices a few months ago and haven't used it.  Now it was time.
It's certainly not the simplest recipe, but it is about the most pleasant cooking experience one can have as long as you have the time, patience, and enough drinks to lubricate the process.  I had all three.  Though I was a little daunted by the number of ingredients, which totaled 30.  But most were found in the pantry, and if divided up, things become much more manageable.
Creole Seasoning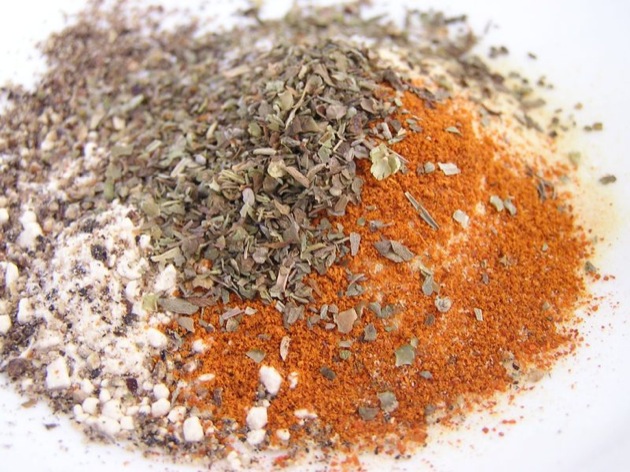 ---
1/2 tablespoon Kosher Salt
1/3 tablespoon Paprika
1/4 tablespoon Granulated Garlic
1/3 tablespoon Freshly Ground Black Pepper
1 teaspoon Onion Powder
1 teaspoon White Pepper
1/2 teaspoon Cayenne Pepper
1/2 teaspoon Dried Thyme
1/2 teaspoon Dried Basil
1/4 teaspoon Dried Oregano
Mix everything together in a small bowl.

Shrimp Stock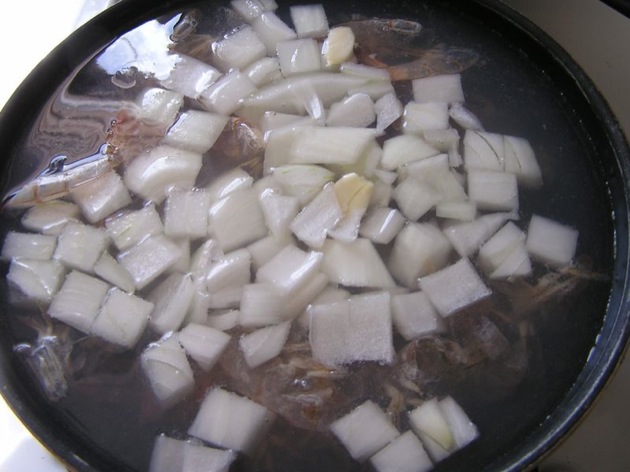 shells of 1 pound of shrimp
1/2 onion
8 cups water
Toss the shells of the peeled shrimp in a large pot with the water and onion.  Bring to a boil, reduce to a simmer, and cook for 45 minutes.  When done strain the liquid into a large bowl.  Discard the shells and onion.
Dark Roux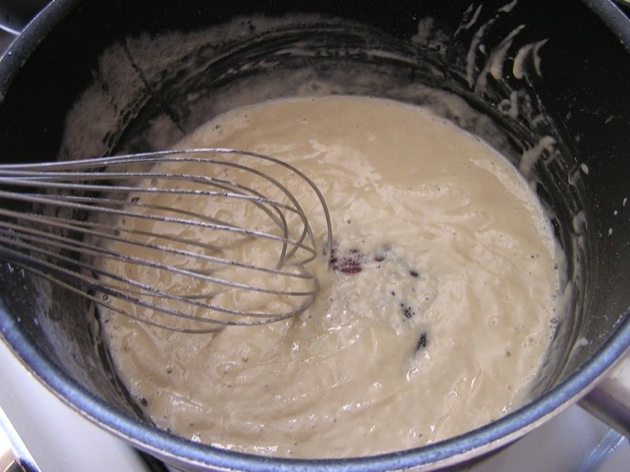 1/2 Cup Vegetable Oil
3/4 Cup All Purpose Flour
Pour the oil into a large pot and add the flour.  Turn the heat to low.  Stir constantly until there are no lumps.  Then stir occasionally until the color resembles chocolate milk.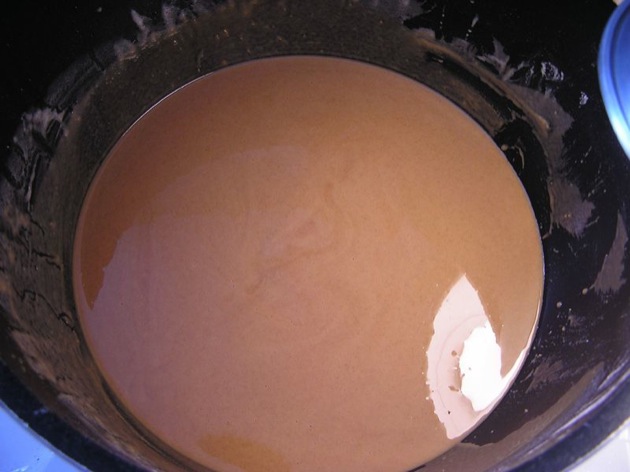 This will take a long time.  I can't be exactly sure how long this took me, but definitely more than 30 minutes, and probably about 45.
Holy Trinity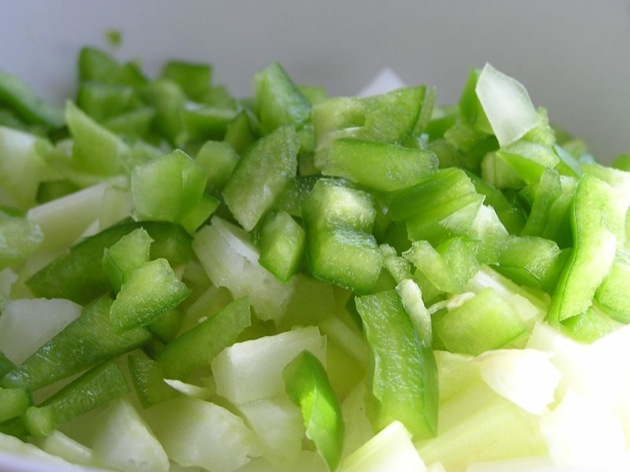 1 Cup Onions, diced
1/2 Cup Green Bell Pepper, diced
1/2 Cup Celery, diced
While the roux is cooking, dice everything up and mix together.  Add the following: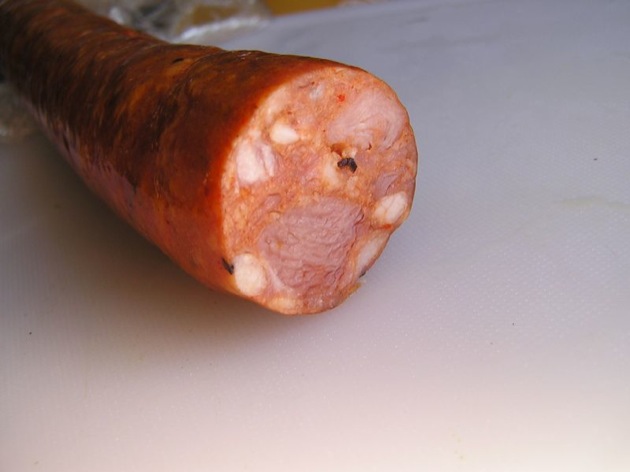 1 Cup Andouille, sliced or diced
1/2 Cup Tasso, diced
1 tablespoon of the creole seasoning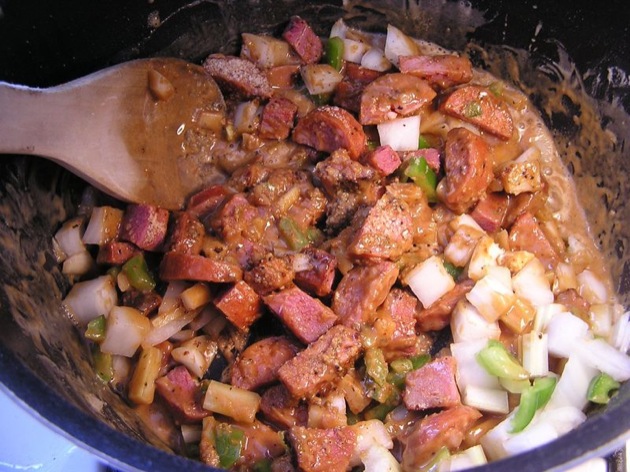 When the dark roux is ready dump in the holy trinty, andouille, tasso and 1 tablespoon of creole seasoning.  Cook until the vegetables have softened.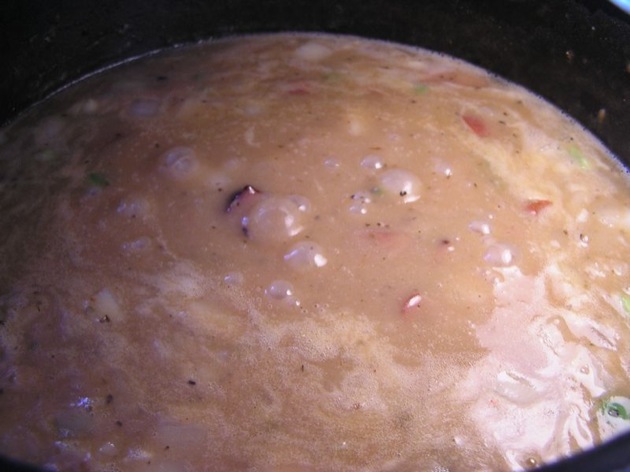 Slowly whisk in:
Then add:
3 Fresh Bay Leaves
3 Tbsp Garlic, chopped
rest of the creole seasoning
Stir until combined.  Bring to a boil, reduce a simmer, and cook for 2 hours.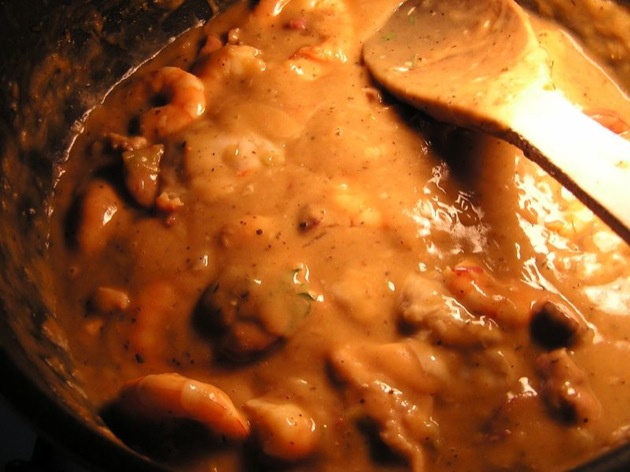 Add:
4 Chicken Thighs, bones removed and cut into 1 inch pieces
Cook for 10 minutes.
Then add:
1 pound of the deshelled shrimp
Cook for 10 minutes.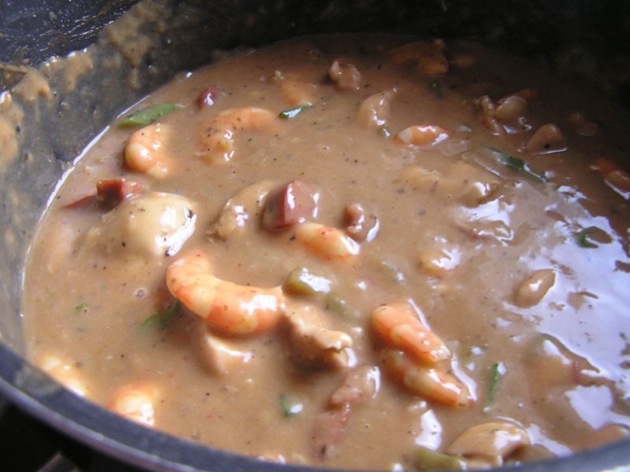 Add:
Cook until for a few minutes, or until the edges of the oysters have slightly curled.
Pour in:
2 Tbsp Worcestershire Sauce
a few shakes of hot sauce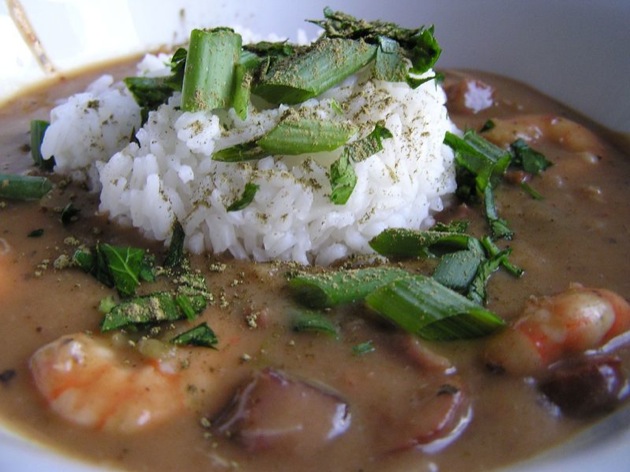 Garnish with:
2 Tbsp Italian Parsley, chopped
1/4 Cup Thinly Sliced Green Onions
Sprinkle:
Andouille,
Chicken,
Chicken,
Creole,
File Powder,
Gumbo,
Ham,
New Orleans,
Oysters,
Pork,
Roux,
Sausage,
Seafood,
Shrimp