Visiting the Spanish coast.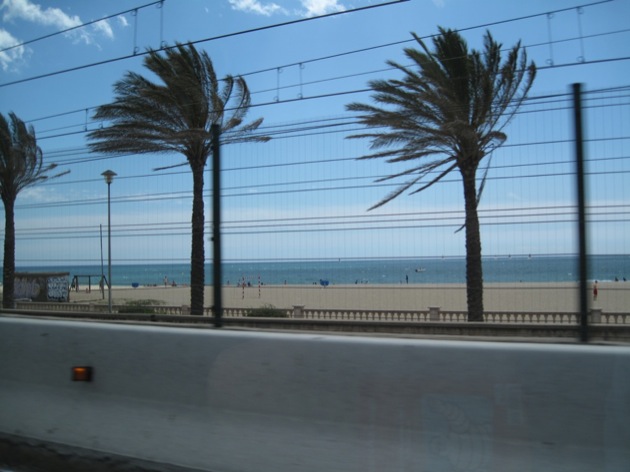 Barcelona was a wonderful city to be in, but leaving it was just as fun. Installed in a tiny stick-shift Citroen, we headed north from the city for Costa Brava, opting for the cheaper no-toll road that snakes along the coast and could take twice as long. Driving in Europe was harrowing the first time I did it, but I've since learned to embrace the speeding, reckless flow--I figure it's safe to go with it than stand in its way. Bright blue skies and palm trees swept by us as we headed north towards France and the mountains.
We wanted the Mediterranean, cold and rocky; we wanted to visit Cadaqués where Salvador Dali spent much of his life; and we wanted to eat really good seafood.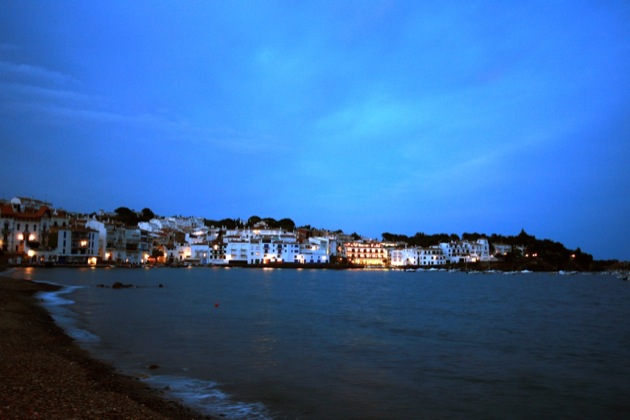 We also happened to be headed for the territory of El Bulli, one of the most expensive restaurants in the world. But our plans didn't include a stop there, though we did consider the idea of finding it and taking a photograph of the driveway, which apparently people do . No, our approach was different: we would instead eat where El Bulli's chef Ferran Adrià himself eats, at a tiny storefront in a town called Roses. There, a man named Rafa, who has named the restaurant "Rafa's" in a nod to simplicity that his food also embodies, unceremoniously cooks some of the best seafood in the world.
Rafa is essentially a fishmonger who also cooks your dinner. When we ate there, the concept of a salad or side dish was never mentioned during our exchange with his wife, who waits on the tables and takes care of pretty much everything but the scathing hot plancha where the seafood is cooked. We simply discussed what was on ice in the fish case--at one point she brought over a shimmering whole fish cradled in the bend of her arm for us to inspect--and then Rafa would scoop out big pawfuls of clams or gambas or a giant turbot and slap it on the scale.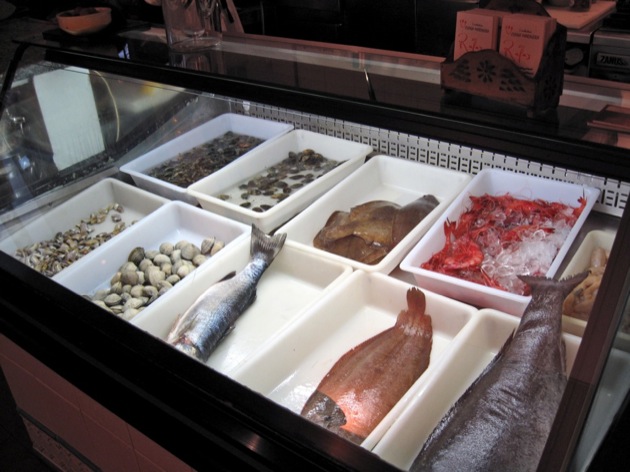 The weight would determine the price, which was scrawled on a slip of paper, a series of which lined the counter for each table. Then dinner would find its way to the blazing hot iron plancha.
We had just begun to eat our almejas , baby clams that were sweet and tender, remarkably full and round in their flavor, when a guy came into the restaurant and started talking to Rafa. For some reason he looked really familiar. Hadn't we seen him at Inopia just a few days before ?
A few moments later, another woman walked in who we recognized--but from where? Then Rafa and his wife began exclaiming "hola!" and a ruckus appeared at the doorway. That's when we looked up to see a whole group of people walking in--including a man wearing a t-shirt that read "In Ferran We Trust." Half the diners in the restaurant were staring or standing up to join in the greeting.
Moments later our dense heads finally got the picture: the man in the t-shirt was Ferran Adrià himself.
I almost choked on a clam.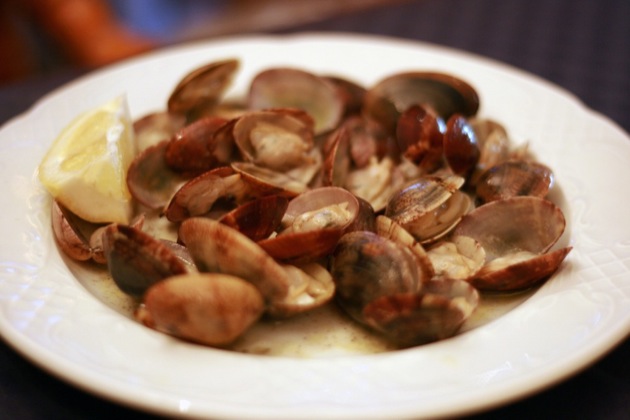 We kept our cool until Ferran and co. shuffled out of the restaurant: they were just stopping in to say hello on their way to a joint across the street called  Las Golondrinas. There they held court at a table and whiled the night away, while we somewhat incredulously returned to our imminent dinner.
After our almejas came the course I was most anticipating, chiperones, little baby squid.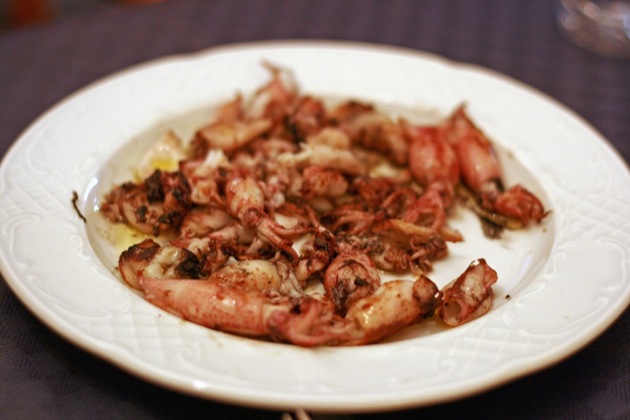 They were possibly the best thing we ate our whole trip. The intensity of the plancha allows Rafa to get an amazing crispness on the outside, especially the little legs which crisp all the through, while the inside is practically liquid it's so tender. Some of them were actually liquid, with their ink still inside. Everything was perfectly seasoned and the whole plate had been soused in olive oil. The resulting olive-oil-squid-juice sauce was heavenly, and we sopped it all up with bread.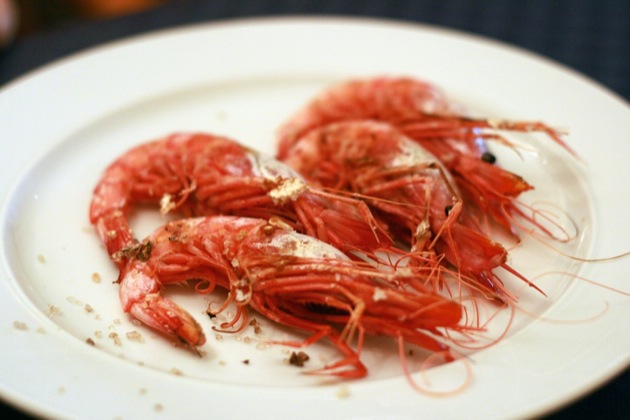 Next came Gambas, big sweet shrimp. They were cooked on the plancha on a layer of salt, but because the shell was still on hardly any salt got to the flesh itself. One of the things any eater must experience is twisting a fresh shrimp's head off and sucking out the sauce; some go so far as to call it the best part (I'm more partial to the pillowy sweet flesh).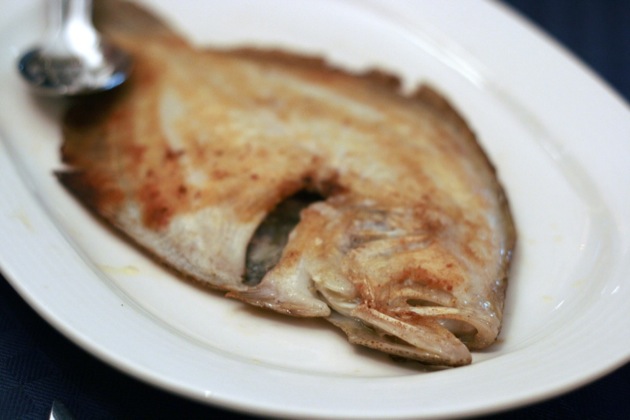 We requested a flat fish to end our meal, with hopes of reliving our experience at Elkano a couple years ago in the Basque region of Spain, which we still remember so vividly. I wish I could remember what kind of fish we got--I believe it was a turbot but I'm not certain (fish experts, weigh in!). It was crispy and golden like everything else. Rafa seasoned each fish on the outside before putting it on the plancha, and it was garnished with absolutely nothing--not even lemon.
Rafa's was probably the most expertly-cooked dinner we ate in Spain, but we also had some other highlights. In Cadaques, a windswept sea town accessibly only by a harrowing mountain road which seems to scare away the tour buses, we wandered into a restaurant we'd read about in the New York Times , which was at the end of a tiny alley in the winding streets of Cadaques called La Sirena. There we ate an affordable meal of whole fish a la plancha and a delicious bottle of house white wine.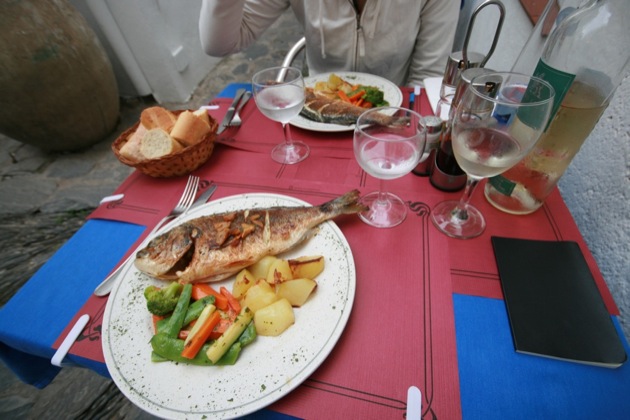 After Cadaques we drove down to stay near a town called Begur at a little hostel/restaurant down by a cove in the Mediterranean, a beach called Aiguafreda. Hostal Sa Rascassa , named after a local fish, is run by a harried but ebullient guy named Oscar, who speaks Spanish, Catalan, French, Italian, and perfect English. You can stay in simple rooms above the restaurant just a minute from the beach.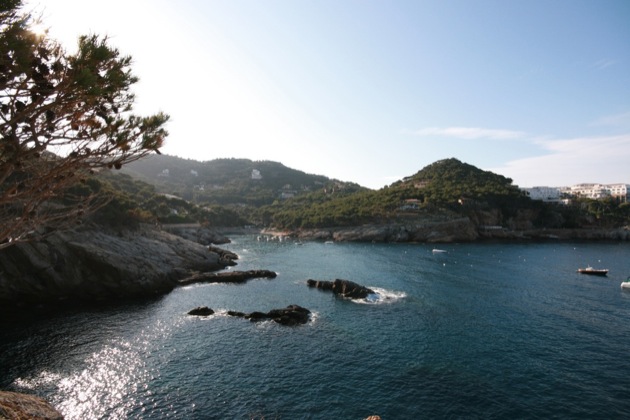 We had a great dinner there as well, grilled sardines, squid-ink pasta, a bowl of mussels and olive oil, and lots of wine. The beach itself was absolutely stunning, and we were content to hardly leave it, feasting on picnic food and succumbing to the sort of distilled, pure beauty of the place. The beaches are rocky and sandless, the water is freezing. But there was something renewing about leaping into the salty mediterranean.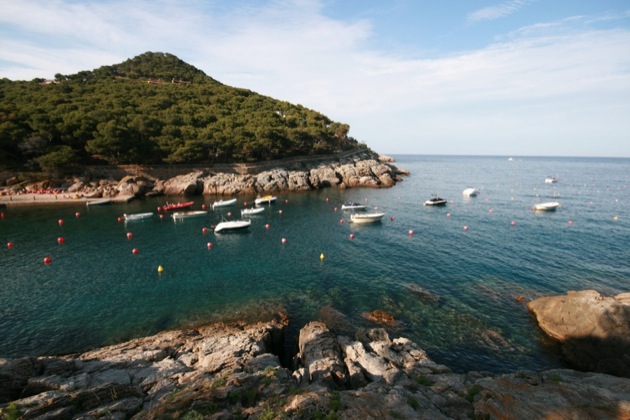 There's a discussion over on eGullet that went on some time ago about two very different kinds of excellent restaurants that one encounters--particularly true in this part of Spain--called "Dining 'in extremis.'" On the one hand, you have the El Bulli kind of cooking "pinnacles of technique or sobriety," the kind of heady food that's intellectual, inspiring, and strange. But on the other, you have restaurants that thrive on "perfect ingredients, cooked with a minimum of adornment," ingredients "usually coming from the immediate region of the restaurant."
Both El Bulli and Rafa's function on a kind of unswerving devotion: one to technique and invention, the other to superb ingredients and simplicity.  Both are equally superb types of restaurants, and both are, perhaps, the highest and purest kind of food.
Of course, a restaurant doesn't have to be an El Bulli or a Rafa's to be good; I'm always suspicious of dialectics.  But I think in some ways people identify with one over the other. For me, a bespectacled, portly guy named Rafa in front of a plancha, who gives all the credit to the fish when you compliment him on his cooking--there's something wonderful about that. That's the kind of restaurant experience I really savor.
Rafa's, Sant Sebastià 56, Roses, Spain (00 34 972 254 003)
Travel,
Alt Empordà,
Appetizers,
Barcelona,
Brava,
Chef,
Costa Brava,
Cuisine,
eGullet,
El Bulli,
Europe,
European cuisine,
Ferran Adri,
food,
Food and drink,
Italian cuisine,
Mediterranean,
oil,
Person Career,
Restaurant,
Restaurants,
Roses,
Salvador,
Spain,
Spain,
Spanish cuisine,
Squid,
Then Rafa