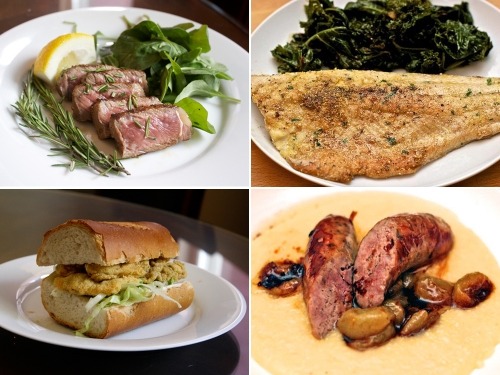 Our weekly roundup of what the two of us have written over on Serious Eats.
"Dinner Tonight" Column
QUICK MEALS TO YOUR TABLE FIVE DAYS A WEEK.
The Best Oyster Po' Boy Outside of New Orleans
Nick still can't reach the perfection he found in New Orleans, but this cornmeal and flour crusted oyster recipe comes the closest.
Cornmeal-Crusted Pan-Fried Trout
Sometimes the simplicity of a freshly caught fish requires nothing more than a sprinkling of cornmeal and a quick sauté in an iron skillet.
Sausages in the Skillet with Grapes
Low heat is the secret to keeping the sausages moist, and the sauce luscious and sweet.
Steak Tagliata with Arugula
This is less of a recipe, and more of an example of how great a steak can taste if you just sear it over high heat and dress it with as little as possible.
Beef,
Oysters,
Sausages,
Serious Eats Roundup,
Steak,
trout