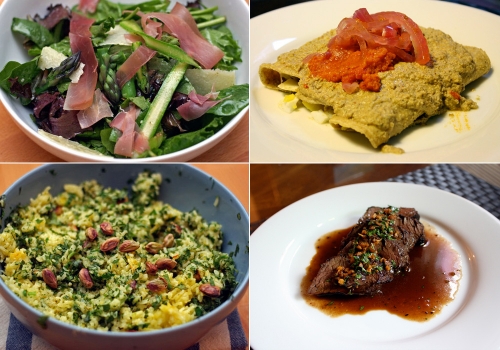 Our weekly roundup of what the two of us have written over on Serious Eats.
"Dinner Tonight" Column
QUICK MEALS TO YOUR TABLE FIVE DAYS A WEEK.
Shaved Asparagus, Pea, and Prosciutto Salad
Blake takes advantage of asparagus season by shaving the spring vegetable thinly and tossing it in a salad.
Yucatecan Papaduzul (Enchiladas Stuffed with Hard-Boiled Eggs)
Pumpkin seeds flesh out this authentic Yucatecan version of enchiladas.
Green Rice with Pistachios
Parsley, cilantro, and dill help tint the rice green, and pistachios give it a bit of crunch.
Six-Spice Hanger Steak
A spice rub adds the heat, and a simple sauce brings out the meaty flavors.
Beef,
Enchiladas,
Salad,
Serious Eats Roundup,
Steak